When it comes to hair removal, there is an option for everybody. If you want the instant smoothness of shaving, with the long-lasting results of waxing, but without paying salon prices and walking out still sticky, then an epilator is the answer. The humble epilator gives you the highlights of waxing with the silkiness of shaving, without having to wait for your hair to grow out! Sounds great, right? Well, we now want to help you find the best epilator for you.
Why trust us? For the last two years, I have only used an epilator for hair removal, so I have real experience to guide you in the right direction. In addition, we have spent over 80 hours researching, testing and reviewing the best epilators on the market. Whether you want an epilator, for your legs, underarms, or even your face, we can guide you to make the right choice!
List Of The Best Epilators Of 2023 We Reviewed:
Best Overall Epilator: Braun Silk-Épil 9
Editor's choice: After thorough testing, we decided that the Braun Silk-Épil 9 is the best epilator overall. It is extremely efficient at picking up hairs, has an excellent selection of attachments and you can use it wet or dry, so it is perfect if you are new to epilating or if you prefer to epilate in the shower.
The Silk-Épil 9 is not just an epilator but a comprehensive hair removal and beauty system that you can use wet and dry. It also helps you to condition your skin before and after epilating. You can use the shaver attachment for sensitive areas that are too delicate to epilate and the body brush to help prevent ingrown hairs. Find here more about how to prevent ingrown hairs while using an epilator.
The head is 40% wider than other Silk-Épil models, with Braun's 'most innovative Microgrip tweezer technology'. In our tests, we found it had the best performance, removing the most hairs on first pass and on the second pass, it left almost no hairs behind, performing best out of all the models that we tested.
The cap that fits over the tweezers pivots, adapting to the contours of your body as you go; perfect for epilating your legs, particularly the awkward knee area. The Smart Light was also very effective at illuminating hairs.
The shaver attachment is brilliant for trimming sensitive areas, although we would prefer it to be labeled 'trim' and 'shave,' rather than 'locked' and 'unlocked'.
The precision and skin contact caps that sit over the tweezers are a good addition, although we found the precision cap quite chunky, and therefore it didn't always pick up the shorter hairs because of the distance it created between your skin and the tweezers.
Braun is a well-established health and beauty brand, with many decades of customer satisfaction, and with this epilator they didn't disappoint. It feels robust and balanced, with a strong motor, but it isn't loud. It is a wet/dry epilator, so you can even use it in the shower. Look here for why a wet/dry model is the right choice and how to use an epilator in the shower or use it overall.
It claims to give you 40 minutes of battery life, but we found that it actually lasted longer than that. We did, however, notice that this epilator gets very hot, and temperature is known to affect the lifespan and performance of a lithium ion battery. In our experience, we can complete a full leg epilation before it got too hot. However, if you notice your device is warming up significantly, it is worth turning it off for a little while to cool down, in order to prolong your battery life.
Even after almost 2 years of use, the performance of this model was fantastic, confirming our initial opinion of high quality.
Best Epilator For Face: Braun FaceSpa Pro
Editor's Choice: The FaceSpa Pro is a sleek and discreet, yet effective device designed to remove unwanted hairs from your face. Its bi-directional tweezers make it far easier to catch the stubborn hairs, no matter whether you are right or left handed, and the additional heads help you to prepare and maintain your skin in between treatments.
The Braun Facespa Pro 911 was by far the top facial epilator we tested. It has bi-directional tweezers which catch hairs as fine as 0.02 mm, which wax leaves behind, as well as two extra heads to optimize your beauty regime:
Efficiency cap which optimizes your skin for effective epilation
High-frequency massage rollers which stimulate your skin for more comfortable hair removal
The heads are easy to switch between by pulling one off and clicking on the next.
The three buttons on the handle are intuitive, but a little fiddly, as there is no feedback as you press them. Thanks to the Smart Head detection, they have a different response depending on which head is attached. For epilating, they select the direction of rotation, while for toning and brushing, they select the speed of motion, although the difference between the speed settings is negligible. The brushing and toning heads pause every 20 seconds to let you know to move onto the next area of your face. We liked this feature because it helped us to achieve consistent treatments.
The set includes a high-quality case and a stand to hold the epilator on your dressing table, although you cannot charge it through the stand, it is purely aesthetic! We love the white and bronze design and how comfortable it is to hold.
It is not waterproof, however, you can clean this facial epilator with 70% ethanol or wipe it with a damp cloth in between uses.
Its performance was good, giving very precise epilation, but it is not suitable for your eyebrows.
To find out more about the Braun FaceSpa Pro, check out our best epilator for face review!
Best Epilator For Legs: Philips Satinelle
It looks great and it performs very well. You can use the Satinelle wet or dry, plus it includes a good selection of attachments, which are easy to switch between and the sleek design optimizes your hair removal. Thanks to its unique shape, we believe the Satinelle is the best epilator for legs!
Of all the epilators we tested, the Satinelle has the best smart light, firstly because it is a whiter light, which is harsher and therefore shows up hairs better. Secondly, the light is positioned better than on other models, because it is angled over the tweezers.
The design of the Satinelle is longer, thinner and lighter than the others, and has ceramic discs to grip finer hairs, whereas other models are metal. It feels comfortable to hold and gives you great control. You can use it both wet and dry.
Unlike all the other epilators we tested, the Satinelle features a slightly curved epilation surface, which we found ideal for epilating legs. The curve allows the epilating surface to fit snugly against curvatures of your leg. While it slimmer than other models, the tweezers at the edge were not wasted, and it appeared to reduce the number of hairs that were snapped rather than plucked.
Our experience with this design found that it makes it slightly trickier for epilating underarms, which have more contours than your legs. There are two attachments you can clip on to the head to make epilating your armpits easier by reducing the treatment area, but if you are specifically looking for an underarm epilator, we recommend getting a different model.
Best Multifunctional Epilator On A Budget: Panasonic ES-ED90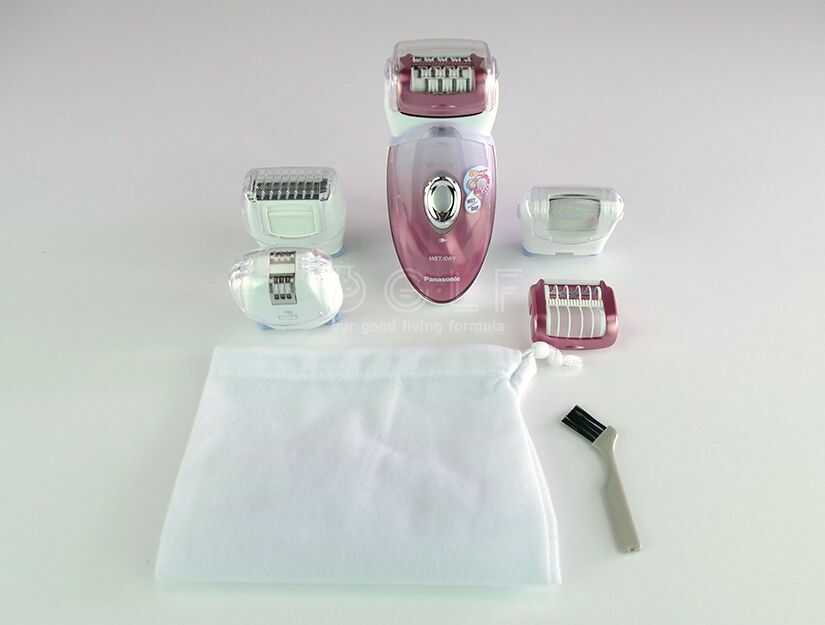 If you are looking for a multifunctional epilator but don't have a big budget, look no further than the Panasonic ES-ED90. Use it to epilate, shave and even buff away dead skin from your feet!
You get 6 attachments in this set:
Large epilator head
Gentle epilator head
Gentle epilator attachment
Shaver head
Bikini comb
Pedicure buffer
It offers the best pedicure attachment; gentle yet extremely effective and we saw a lot of skin debris coming off. It does collect in the little shelf on the head though, so make sure you clean it afterwards. Luckily, we have a detailed answer on how to clean your epilator.
The caps are a bit more fiddley to swap between, but the connection is secure. The parts are thinner than other models, and while they feel flimsier in comparison, this thinner design is better as it allows the tweezers to get closer to your skin, giving better hair removal.
Unlike other models which have pivoting caps that fit over the tweezers, the Panasonic's whole head pivots 30° forwards and backwards, meaning the tweezers are always perfectly positioned for the contours of your body.
The 48 tweezers are positioned in two rows for maximum coverage, designed to capture more hairs at first pass, and despite that, we did not find any noticeable increase in discomfort.
Unlike some epilators, you can completely immerse the Panasonic in water. You can use both the shaver and epilation head in the shower or bath and you can even use it with shower gel or shaving foam. This makes it an excellent option for beginners or those with sensitive skin, as the bubbles soothe your skin as you epilate.
Best for Multi-Directional Hair Growth: Emjoi Emagine
The Emjoi AP-18 Emagine boasts the most tweezers out of all the epilators we researched; a massive 72! They are positioned on two dual-opposed heads and are staggered to give you a better surface area to remove the hairs from the roots the first time. We didn't notice any increased tenderness when using it on legs, but probably because only one of the heads is picking up hairs in this case.
However, areas such as your underarms, where hair grows in multiple directions, are more painful because it picks up more hairs in one go. It is therefore worth considering the trade off if you are looking for an underarm epilator; do you want faster epilation or less pain?
The Emjoi Emagine is the first epilator in the world which features silver ion technology, giving you antimicrobial protection. This helps to reduce the chance of getting folliculitis from epilating. You should still clean your epilator after every use though.
It also features the patented glide technology, which works alongside the dual-opposed heads to lift flat and short hairs, which may otherwise be missed.
Attachments Sold Separately
While its performance is good, unlike other models, there are no other attachments included in this kit, but you can buy them separately. This wasn't a deal breaker for us as it is a good epilator. However, what does slightly let it down is that there is no smart light to help illuminate the hairs. This makes a huge difference, particularly if you have fair hair. Therefore we recommend this more if you have darker or coarse hair that is easily seen without a light.
It is also a mains-powered design and therefore not waterproof, so it may not be for everybody, but it will offer consistent output with no need for pre-charging.
Best Budget: Braun Silk Épil 5
If you are looking for a simple epilator and shaver combination with brand reliability but a smaller price tag, look no further than the Braun Silk-Épil 5. Despite have a slimmer epilation head, it still has 40 tweezers, a pivoting head for better skin contact and an effective smart light. It isn't suitable for using whilst wet, however, you can clean it by rinsing it under water when it is disconnected from a power source.
The instructions advise you not to use the epilator without a treatment cap also attached. There are two caps included:
Micro-vibration toning head enhances your skin's appearance by massaging and applying serums
Facial cleansing brush removes makeup and impurities to deeply cleanse your pores
Both caps pivot to maximize the skin contact with the tweezers.
You also get a cooling glow included in this set. You can freeze the ice pack for two hours and then place it on your skin to calm it before and after epilating. It comes in a silky glove so you can gently glide it across you skin. We found this was a very effective method of calming our skin.
There are two settings to use: gentle and extra gentle, which you toggle between by turning the dial to eleven or one o'clock. We found this a little more fiddly than other controls as it is easy to overcompensate, but you soon get used to it.
The smart light was similar to the Épil 9. It didn't cover such a wide area, but it doesn't need to as the head is slimmer.
Best Budget Epilator For Face: Remington Smooth & Silky
It may not have all the bells and whistles that other facial epilators come with, but the Remington Smooth & Silky is a simple, well-performing facial epilator. It is ergonomically-shaped so that it fits comfortably in your hand, and it rotates in the same direction that the body epilators do, unlike the Braun facial epilator.
It includes a protective cap and cleaning brush. We found the cleaning brush to be very useful at dusting the hairs out of the tweezers, but the protective cap was useless as it kept popping off!
It is ideal for removing unwanted hair form your upper lip, chin or cheeks (women, not men, as men's hair is too dense here). However, it is not suited to shaping eyebrows. You may also want to use it to tidy up areas like your bikini line, which is too sensitive to use a full-sized body epilator on!
The Remington is powered by just an AA battery, which is included in the set, so you are ready to go as soon as you get it. It means that you can slip it in your luggage when you go away and it is always ready to go. The battery lasts a while and is easy to replace.
We Do Not Recommend Voyor
The Voyor 3-in-1 epilator did not stand up well in our tests. This is because it strained under the resistance of moving it along our skin with all heads, not just the epilator, meaning its overall performance was poor. The pumice head was also too gentle to remove much dead skin and it was extremely hard to clean. The head doesn't pivot and there is no light to illuminate hairs. We couldn't test the shaver head because the plastic fixture had melted, so we couldn't connect it to the device. It also had melted plastic in the foil of the shaver.
However, it has many positive reviews by other users and it is cheap, so if you are still interested in this epilator, you can:
How To Choose The Best Epilators For You
There are many different options when it comes to choosing the best epilator for you to make sure you get your investment right. Here are what we believe to be the most important considerations:
There are two different 'power' considerations for your epilator; the number of tweezers it has and the number of speed settings. Epilators with more tweezers will remove more hairs in one go, providing they are arranged in an efficient layout. Having a choice of speed settings is a good setup for beginner epilators so that you can get used to the sensations when you first start out.
The more comprehensive epilator kits include a selection of different caps to clip on over the tweezer heads. These caps may spread your skin more effectively for efficient hair removal, or may reduce the exposed area for treating sensitive regions. Caps make the epilators more economical by enabling you to use a body epilator on your face, too.
If you are concerned about pain, we recommend choosing a 'wet and dry' epilator so you can use it in the shower or bath where the warm water will relax you. It may also relax your pores so that the hairs come out with less resistance. Also, look for an epilator that includes a sensitive area cap as these are designed to reduce discomfort. We recommend this to anyone who doesn't have prior experience of waxing or epilating.
A light is an important feature in our opinion. A well-positioned smart light will illuminate even the shortest and finest hairs, making it easy to spot areas you have missed. The epilator with the best smart light was the Satinelle.
While it is not a deal breaker, we recommend choosing a model with removeable heads. We consider a purchase like this as an investment, because with the right model, you can get so many uses from one product. For example, the Épil 9 gives you an epilator, shaver and facial brush all in one.
These accessories complement each other, optimize your hair removal and beauty regime and make the expense far more worthwhile.
Wet & dry epilators are only available cordless, however, if you are not bothered about epilating in the shower, a corded model may be right for you. Corded epilators are always ready for use and won't run out of battery before you are finished, but cordless options give you complete freedom to more around. A cordless epilator usually has plenty of battery life to be able to last long enough for at least a full leg treatment.
Advantages And Disadvantages Of Epilating
In our opinion, epilating is one of the best methods of hair removal, and these are the reasons why:
Can give you weeks of silky, smooth skin
Minimal ongoing costs
No mess, other than the hairs you remove
Easy to travel with
Easily plucks hairs as short as 0.5mm
Hairs may grow back finer and less dense
Suitable for all hair types
Epilators often come with extra features, such as shaving heads and exfoliators
However, it is not the ideal option for everyone as it does have a few disadvantages:
Higher upfront cost
May cause ingrown hairs
Not suitable for men's facial hair
May experience some discomfort, although this reduces over time
Epilating Compared To Other Hair Removal Methods
Shaving doesn't last as long as epilating does – days as opposed to weeks, so you will probably experience that on average you will spend more time in a month shaving than you would epilating. Shaving is however painless, unless you catch your skin, whereas you may experience some discomfort and soreness as you get used to epilating. Similar to epilators, a razor is very easy to take on vacation, and it does remove even the tiniest of stubble hairs. Read our reviews of the best bikini trimmers and razors for more information.
Like epilating, waxing removes hair from the root, meaning it can give you silky smooth skin for weeks. However, waxing requires hairs to be longer in order to grab hold of them. Therefore, you have wait for your hair to grow to a length of about ¼ inch (6mm). In comparison, an epilator removes hairs as small as a grain of sand, so the grown-out hair isn't noticeable. With both waxing and epilating, there is a chance you could experience ingrown hairs.
An epilator may be a costly investment upfront, but waxing is a considerable investment over a lifetime, and you may find buying an epilator is the same price as just a couple of wax appointments.
Waxing is also messier! Traces of wax may remain on your skin and clothes leaving you feeling sticky and uncomfortable. The pain of waxing often reduces over time, and the warmth of the wax may even relax you and soothe your skin. Find out more about home waxing in our best wax warmer review.
However, it can also remove dead or dry skin, which means it is unsuitable for people with delicate skin or those taking medications such as Accutane.
Realistically, you aren't going to tweeze large areas of your body, but the principle is the same; epilators are essentially tweezers on steroids! Tweezers may be good for targeting those stubborn single hairs or small areas, such as your eyebrows or face, but for larger areas, don't bother; choose an epilator instead.
Electrolysis is a permanent  hair removal option, unlike epilating, which is only a short-term method. Electrolysis destroys the hair follicle, giving you permanently smooth skin. However, it involves inserting needles into your pores, so you will likely experience more pain and therefore it may not be your preferred hair removal option. It often requires more than one session too, and its price is dependent on the area you treat, so it can be a considerable investment. Another permanent hair removal option is laser or IPL, which you can learn more about in our OGLF review of at home IPL devices.
Frequently Asked Questions
Here are some commonly asked questions about epilators:
If you are looking for a good all-round epilator, the Silk Épil 9 is a perfection option, but if you are specifically looking for an epilator just for your legs, then the Satinelle is ideal. On the other hand, the FaceSpa Pro was the best facial epilator we found.
We hope you have enjoyed reading our epilators review and that we have helped you find the best epilator for you. We strongly believe that once you have begun epilating, you won't turn back to regular shaving or even waxing! If you are interested in learning more about epilating and other forms of hair removal, please visit our blog.