With our hectic lifestyles, it's getting harder and harder to find time for exercise. An obvious solution to this dilemma is to multi-task by working out as you work, watch Netflix or sit on the couch. A great little device to allow you to do just that is the mini stepper. A stepper that has no handles, mini steppers are an efficient, economical and portable way to burn calories, while getting your business done.
In this article, we go in-depth into the mini stepper scene to bring you the best mini steppers on the market. We'll also cover the essentials you need to get the most out of your new mini stepper.
Mini Stepper Comparison Table
1. Sunny Health & Fitness Mini Stepper With Resistance Bands
Editor's Choice #1: We love the functionality of the Sunny Mini Stepper with resistance bands. The extra resistance is totally removable to provide you the option of combining upper body training. Throw in the adjustability, slip-resistant footpads and digital tracking and it's a no-brainer why this is our best mini stepper!
Resistance Bands
The Sunny Mini Stepper machine differentiates itself with the provision of removable resistance bands. These provide a whole new aspect to the workout with weight-bearing movements to work both the upper and the lower body. The combination of aerobic and anaerobic exercise in one workout also makes your training more time-efficient.
Slip-Resistance Footplates
This mini stepper machine provides you with oversized slip-resistant footplates. This provides you with the stability and confidence to exercise with balance and coordination. This is especially important for elderly people when exercising, as the unit does not have stability handles.
Digital Tracking
The Sunny Mini Stepper machine provides you with a large digit, centrally located monitor. The display provides you with a running readout of your essential training data, including steps taken, time, count, calories burned, and scan mode.
Lightweight & Portable
The Sunny Mini Stepper is compact and portable. It weighs in at 14.5 pounds, with a 16-inch length and a 13.5-inch height. This makes it usable in even the tightest of workout environments and totally portable. The weight capacity is 220 pounds.
Twist Function
The unique twisting action of the Sunny Twist Stepper is also incorporated into this unit. That allows you to get a great workout in the sides of the waist, intercostals, and obliques with every step that you take.
2. Sunny Health & Fitness Twist Stepper
Editor's 2nd Choice: The Sunny Twist Stepper is a slightly beefed-up version of our top choice. It provides you with 30 more pounds of maximum weight capacity (250 pounds) and is slightly bigger. It is also a little more expensive. However, it retains the resistance bands and twistable features, firmly cementing itself in second place on our 'best of' list.
Twist Function
The twist action that comes with the Sunny Health and Fitness Twister Stepper allows you to provide the glutes, thighs, and hamstrings with unique working angles. At the same time, it puts more emphasis on the hard-to-reach intercostals and obliques on the side of the waist. This allows you to hit those stubborn love handles.
Durability
The Sunny Health & Fitness Twister Stepper is more solid and durable than the Sunny Resistance Band stepper. The maximum user weight for this machine is 250 pounds, compared with 220 pounds on the resistance band stepper. It is also heavier and larger, with a height of about another half inch.
Height Adjustment Knob
The Fitness Twist Stepper comes with a centrally located height adjustment knob. This provides you with the ability to easily adjust your stepper resistance. The transition between levels is smooth, without any of the jerkiness that you often get with budget mini steppers.
Resistance Bands
This gym mini stepper model provides you with resistance bands that are very similar to those that come with the Resistance Band stepper. This allows you to get an effective upper physique workout, simultaneously, as you are burning calories and hitting the muscles of your lower body.
3. Xiser Commercial Mini Stairmaster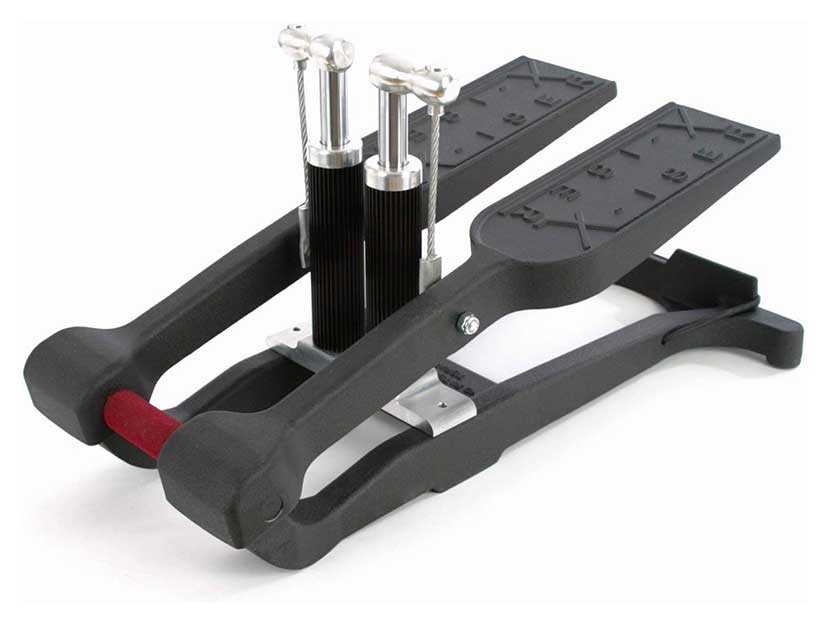 The Xiser Stairmaster has a frame that is made from aluminum alloy, making it more robust than the majority of competitors that feature hardened plastic. It also lifts the appearance of the machine, to give it more style. The footpads are made from hardened plastic.
Quiet
The Xiser mini stepper is one of the quietest operating mini steppers that we have yet come across. This is thanks to the high spec centrally located pistons that deliver an efficient, smooth and absolutely noiseless operation as you step up and down on the machine.
400 Pound User Weight Capacity 
The strength and durability of this mini stepper is underscored by the huge 400 pounds of user weight that it can support. This is a higher weight limit than any other stepper that we have come across or heard about. It enables users of all heights and weights to safely and comfortably use this machine. 
Intensity Levels
The Xiser is designed to be used for intense training protocols such as High-Intensity Interval Training. This puts it on a level above the majority of mini steppers, which are more designed for light home use. This machine has been designed by exercise specialists to provide you with a serious workout.
4. Stamina InMotion E1000 Compact Strider
The ergonomic design of the Stamina InMotion E1000 compact strider makes it a great option if you are planning to use the machine either seated or standing. The unique angling of the foot pedals allows you to target your leg muscles and get the proper balance when seated. This machine provides an elliptical trainer movement pattern to combine the benefits of a stepper with that of an elliptical trainer.
Multi-Function Monitor
The Stamina InMotion comes with a multi-function LCD display that provides you with a large display readout of your training diagnostics. This includes number of strides per minute, total strides, exercise time and calories burned. There is also a stride function so you can get a running readout of your training info.
Adjustable Tension
The Stamina InMotion E1000 comes with adjustable tension to allow you to vary the intensity of your workouts. Simply adjust the centrally located tension knob to increase or decrease the resistance. Transitioning between resistances is impressively smooth on this machine.
Textured Foot Pedals
The Stamina InMotion E1000 provides you with large textured foot pedals to give you a secure foothold while you are exercising. This provides the balance you need when you are on a unit with no side handles. The footplates are also big enough to allow for a variety of foot positions.
The Outtive Mini Stepper provides you with very good exercise performance thanks to the high spec hydraulic cylinders that it uses to drive the pedals up and down. The inbuilt spring also gives you a cushioning effect on every step, to further reduce the very low impact on your joints.
Resistance Bands
The Outtive Mini Stepper comes with detachable resistance bands. These bands, situated on the front of the unit, allow you to work the muscles of your upper physique, while also getting in a cardio and lower body workout. The bands also help you to balance while you are exercising.
Foot Pedals 
The foot pedals on this stepper are large, ergonomically angled and embossed on their surface. This allows you to get a soothing foot massage as you are exercising. The foot pedals are made of ABS plastic material.
Durable Frame
The frame of the Outtive Mini Stepper is impressively stable. It provides a very secure base from which to step. This unit also comes with a rubber protective casing to reduce the potential damage to the floor.
6. Marcy Home Cardio Exercise Mini Stepper With Handle
The Marcy Home Cardio Exercise Mini Stepper comes with an adjustable handle. This adds a level of versatility. It allows you to grip the ergonomic handles and thus, place more emphasis on your upper body, along with the front portion of the thighs. Because the handles bring the LCD display up to chest height, they also allow you to more readily see your training data.
Extra Wide Non-Slip Pedals
The Marcy Home Cardio Mini Stepper delivers some very impressive foot pedals. They are extremely large to allow for a variety of foot positionings. You also get anti-slip surfaces to ensure that you are as secure as possible.
Hydraulic Drive System
The Marcy Mini Stepper provides you with a hydraulic drive system that ensures that you get a smooth up/down pedaling movement. The system is also shock-resistant to provide you with a jerk-free, natural exercise motion.
Skid Resistant Floor Protectors
The Marcy Home Cardio Exercise Mini Stepper comes with slip-resistant floor protectors on the underside. This not only keeps your floor scratch-free, but it also prevents the mini stepper from sliding around as you are working out.
7. Stamina InMotion Compact Strider With Cords
The Stamina InMotion Compact Strider with Cords provides you with a pair of medium resistance cords with handles. This gives you upper body resistance training capability, while also adding to your balance, coordination, and lower body workout. The cords in this unit are detachable.
Reverse Motion Pedals
The Stamina InMotion with Cords allows you to pedal in both forward and reverse motion. This provides you with the ability to work your lower body muscles in unique ways. Reverse pedaling puts more emphasis on the glutes, hamstrings, and calves, while front pedaling is more quad dominant.
Carry Handles
This mini strider comes with convenient carry handles to make it easy to transport the unit around your home or place of work. The unit is also lightweight and compact to make it even easier to carry around. Slip-resistant floor protectors will also make sure that your floor does not get scratched.
8. jfit Under Desk & Stand Up Mini Stepper
The jfit Under Desk & Stand Up Mini Stepper provides you with the ability to adjust the angle of your pedaling action so as to get the ideal ergonomics while both seated and standing. Other mini steppers will allow you to operate under your work desk, but this one is specifically designed for that purpose.
Compact Design
The jfit Under Desk fitness stepper is the most compact and lightweight of any of the machines we have come across. This unit also provides you with a handy carry handle to make it a breeze to carry around. Slip-resistant feet will also ensure that you do not have to worry about the unit sliding around under your desk.
Very Quiet
Being a mini step machine that is specifically designed for use in an office setting, you would expect the jfit to be quiet. This unit delivers on this front with whisper-quiet operation.This is thanks to the extra-large wheels used in the motor.
Benefits Of Mini Steppers
Mini stepper machines will deliver a convenient form of low impact cardio workout. The stepper machine emulates climbing stairs but, because you never lift your feet from the footpads, there is no jarring on your joints. Steppers also provide you with a way to get in a workout anytime, anywhere. They are smaller, lighter and cheaper than most other forms of cardio equipment. Most of them only require two square feet of space to operate them.
Mini steppers will effectively work your glutes, quadriceps, hamstrings, and calves, delivering an effective lower body workout. At the same time, it will burn calories to help you to lose excess body fat. Many people also find that the stepper helps them to improve their balance and coordination.
Due to its compact size, you can use some mini stepper machines as an under-desk trainer while you are working at your office desk. You also have the option of standing, which will provide a more intense leg focus and burn more calories. Some steppers will also provide you with an extra resistance component, such as resistance cables. This adds an anaerobic training aspect to the workout, to work the muscles of your upper body.
Factors To Consider When Choosing A Mini Stepper
Durability
Mini stepper machines are low-cost and lightweight, but that doesn't mean that they shouldn't be durable. Ideally, the frame of the unit should be made from aluminum. However, many are constructed from hardened plastic. You also want high spec hydraulics with pistons that are durable, smooth and quiet.
Size
Mini steppers are designed to be moved around the home and taken with you when you travel. But they also need to provide you with a solid and stable base from which to exercise. This is especially so as most of them do not have handles. As a result, you should make sure to get a balance between compact size and light weight and the sturdiness that ensures stability when you are using the machine while standing. If you plan to use the stepper under a desk, you will want a step height under 13 inches.
Noise
Due to the nature of its use, the noise factor is an important consideration when buying a mini stepper machine. Some mini steppers make a loud 'sshhh' sound every time you take a step. This is due to the cheap nature of the hydraulics used. Look for a machine that is made of higher specs pistons that operate silently.
Tracking
Mini steppers usually provide some sort of tracking system so you can monitor your workout performance. However, because the base of the unit is quite a distance from your eyes, you need to ensure that the display is large enough to be seen while you are exercising. Look for mini steppers with a large, centrally located display with large digits that provide you with a readout of your time, step count, calories, heart rate and distance.
Tension
Mini steppers should allow for an increase or decrease of tension. This will provide you with  progressive resistance to increase workout intensity as you get stronger. Tension adjustment should be smooth and natural, without any jerkiness. The best steppers will provide you with a remote control to adjust the tension, so you don't have to bend down to the machine to do so.
Extras
Most mini steppers do not come with handles, but some do. These are often detachable so that you can also use the stepper as an under-desk unit. The handles will often feature pulse heart rate sensors. Other stepper machine models have resistance bands fitted to the base to allow you to perform upper and lower body resistance exercises. These add a whole new dimension to your workout and represent good value for money. A twister stepper, like the Sunny Health & Fitness twister stepper will target even more muscle groups.
Frequently Asked Questions
The best mini stair stepper on the market right now is Sunny Health and Fitness's Mini Stepper with Resistance Bands, which comes with built-in resistance cords to allow you to engage the muscles of your upper body. The second best is the Sunny Health and Fitness Twist Stepper. Rounding out our top three best mini steppers is the Xiser Commercial Mini Stairmaster.