There are currently hundreds of teeth whitening products on the market for you to use at home. There are many different types of teeth whitening product that you can choose from, many of which use new technology. This can make choosing the right teeth whitening product confusing.
Ultraviolet (UV) light has been widely used by dentists to enhance and speed up the whitening process for many years, but now with so many studies showing the safety risks of UV radiation, a safer alternative needed to be developed. The result was LED teeth whitening, which uses safe wavelengths of blue light.
Now, that technology is available for you to use at home, at a fraction of the cost of a treatment in your dentist's office. With so many products around, it can be hard to know which is the best one for you, so to help you decide, we have selected what we consider to be the best products around and compared them. We want to help you to achieve beautifully white teeth at home, without the hefty price tag.
Here is our list of some of the leading at-home teeth whitening light products which we have compiled and reviewed:
AuraGlow Teeth Whitening Kit
Our favorite LED teeth whitening product is the AuraGlow Teeth Whitening Kit. It is incredibly easy to use and is designed to create no mess. Its sensitive approach to teeth whitening gives you fantastic results that look professional, without causing any pain or sensitivity. You can see results after your first treatment, so we doubt you will be disappointed with this kit.
Whitening Formula
This fantastic, dental-grade tooth whitening kit uses a gluten-free, kosher whitening gel. What's more, it won't cause you any tooth sensitivity! To make it even better, the gel comes pre-loaded in the syringes, so you'll have no mess as you quickly and easily dispense the gel into the mouthpiece. You can precisely apply the gel into the mouthpiece and get the best coverage for your teeth, giving you the best whitening result.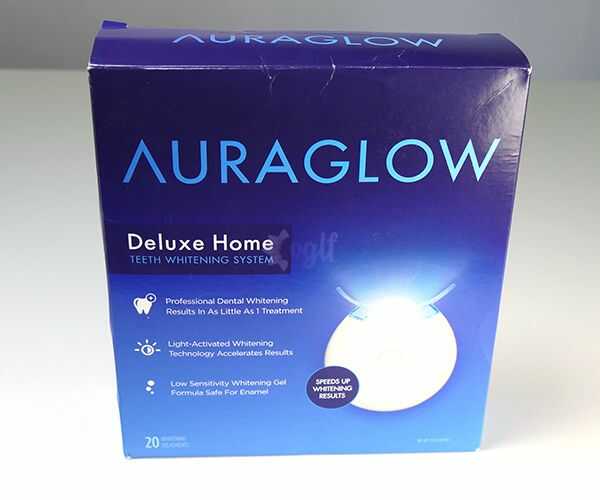 The gel has a concentration of 35% carbamide peroxide, and the syringes contain enough gel for 20+ treatments, but you will see results after the first. It can be used once a day for up to 30 minutes each. But it doesn't just stop at whitening your teeth, it polishes your teeth and even helps remove plaque, improving the dental condition and overall oral health. It is safe for your enamel, caps, crowns and veneers.
Mouthpiece
The mouthpiece is ready to use – you don't need to shape it for your teeth, yet you will find it very comfortable to use. It is made of high quality, BPA-free, food-grade silicone, which is therefore safe and gentle on your mouth.
The mouthpiece attaches to the light, which contains 5 intense LED bulbs which speed up your teeth whitening process. It leaves your hands free to get on with other tasks or kick back and relax while you treat your teeth. You don't even need to keep an eye on the clock as the light has a built-in timer which alerts you at 10-minute intervals. It also comes with a storage case so you can keep it clean, or even whiten on the go!
Ease Of Use
This kit is extremely easy to use. You can get on with your first treatment as soon as it arrives, without worrying about molding the tray, and the application of gel by the syringe is much more accurate and cleaner. It contains enough gel for 20 sessions, but unless you have very stained teeth you probably won't need this many, so you'll have enough left to touch up if you need to after a few weeks or months.
Conclusion
We love this tooth whitening kit, especially how it polishes while it whitens your teeth. You'll begin to see results after your first treatment, and we love how it boasts not to cause tooth sensitivity.
Benefits
No-mess, easy to use system
Pre-loaded whitening gel syringes
Convenient LED light with timer
High concentration of whitening gel for best results
Negatives
None! We love this product.
Cali White Teeth Whitening Kit
The Cali White kit is a complete tooth whitening system. It will whiten your teeth to up to 8 times brighter than before, in as few as 7 days!
Whitening Gel
The formula is safe for your tooth enamel and the tooth guard is a comfortable fit. Wear it for just 10 – 30 minutes per day, for up to 10 days and you will see your staining and discoloration disappear. You don't need to wait around at the bathroom mirror either; the hands-free tooth guard design means you can treat your teeth while watching television – just wait for the timer to go off when you're done!
To make your teeth whitening session even easier, the gel comes pre-loaded in syringes, which means that you can cleanly apply it to the mouthpiece. This means you have no mess, and you get a more accurate treatment.
Ingredients
This kit is an excellent choice if you have sensitive teeth. The gel is a low-sensitivity formula, meaning it is gentle on your teeth but still tough on stains. It is non-GMO, kosher, gluten-free and vegan. It also doesn't contain any sulphates or parabens and even contains certified organic ingredients. It truly is a "no nasties" product.
Tray
You have the choice of two different types of whitening trays in this kit. You get one universal, comfort-fit tray, which is patented exclusively for Cali White, as well as 2 thermaform custom fit trays. The blue LED light fits onto the mouth trays and to make your treatment even easier; it has a built-in timer, so once it's in you can forget about it until it alerts you that the time has passed. The design is patented and is very successful.
Also included in the kit is a carrying case to keep your kit clean and enable you to whiten on the go!
Conclusion
You are sure to love this LED teeth whitening kit. It is comfortable, easy to use and will give you great results in no time. What's more, it is suitable for a wide range of dietary requirements and is a great choice if you have sensitive teeth.
Benefits
Complete whitening system
Easy to use
Choice of 2 different whitening trays
High concentration of whitening gel; but also comes with sensitive gel
Built-in timer on LED light for convenience
Carrying case to whiten on the go
Negatives
None! We love this product.
Active Wow Teeth Whitening – Premium Kit
The at-home tooth whitening system from Active Wow provides dental-grade results in your home. The Active Wow system comes with remineralization gels to help protect and nourish teeth after a tooth whitening treatment.
The kit comes with clear whitening gel already prepared in easy-to-use syringes, two of the remineralization gel syringes, three trays which hold the whitening gels, and the LED light to speed up the whitening process. You'll also get a carry tray for the moulded liners to keep them safe and clean between treatments.
Custom-Fit Trays
You will need to take a few minutes to mould the whitening trays before using the system, but it comes with an extra tray in case you make a mistake.
It's essential to have a well-fitting whitening tray to avoid getting the gel on your gums and lips. Doing so can cause discomfort and sensitivity. It turns out that the extra tray is useful because it can take a special touch to get the temperature of the trays just right to mold them to your mouth! So take your time with this step to ensure proper whitening results.
Fast Results
You'll be able to see the results of the Active Wow teeth whitening system after one treatment, but you'll get maximum results after several uses. You might find that your teeth start to look transparent when using this product, and if that happens, discontinue use for a few days and use the remineralization gel to boost your enamel.
It's a great at-home LED whitening kit that can help you improve the look of your smile quickly and easily. It can give you dental-grade results, quickly, you can see a difference even after your first treatment!
Benefits
Comes with remineralization gel
Enough product for 30 treatments
See results after only a few treatments
Comes with extra whitening tray in case you make a mistake fitting it to your teeth
Negatives
Unclear whether it is suitable for vegan, Kosher, or gluten-free dietary requirements
Crest 3D White Whitestrips With Light
Crest Whitestrips are the at-home tooth whitening system that most people are familiar with because of the popularity of their range of tooth care products. This product is widely available and is a very affordable at-home whitening kit.
The Whitestrips kit offers tooth whitening strip technology with the bonus of blue LED light to improve the effectiveness of the whitening strips dramatically.
Long-Lasting Results
Crest promises up to 3 years of long-lasting results when treatments have completed. Crest Whitestrips use the same whitening ingredients as dentists use, and when combined with the blue LED light you'll get faster results than when using the strips alone. So if you are looking for quality results, you might want to check out the Crest 3D White Whitestrips system.
The handheld light system is easy to use and gives you dramatically better whitening compared to using the Whitestrips alone. You may start to see results after just one treatment, and once all of the treatments have completed, you'll be amazed at the results. Similar to other at-home whitening kits, you'll need to be careful not to get the whitening gel on your gums or lips. The high-performance whitening gel can cause mild, temporary sensitivity.
The kit comes with ten treatments in total, which is a complete round of whitening treatments. Crest promises impressive results fast.
The light is specifically developed to work with this kit. You are advised by the manufacturers to discard it once it has been operated for the full number of Whitestrips in the packet. It is not clear whether it will stop working or whether it will just work less efficiently. Having said that, you may not need to continue treatments past the suggested 10 anyway if you have already achieved your results.
Benefits
Can give dramatically better results
Easy-to-use system
Convenience strips instead of trays to whiten teeth
Negatives
Highly concentrated whitening gel that can cause temporary sensitivity in teeth
LED light shouldn't be used once you've finished the treatment plan; you'll need to discard it when the ten treatment sessions are done
Shine Whitening Teeth Whitening Kit
This at-home LED whitening kit from Shine offers professional quality results by effectively whitening teeth quickly and easily. The kit comes with two pre-packaged syringes containing the whitening gel so that you can easily fill the whitening trays without the mess and hassle of other tooth whitening systems. This kit also comes with remineralization gel, which is a great feature. As you have seen, we rate the products which help keep teeth healthy and feeling good between treatments very highly.
Custom-Fit Trays
The trays need to be molded to your teeth, which can take a few minutes to achieve, and unlike other systems, you don't get extra trays, so it's important to follow the directions carefully to mold the whitening trays to your teeth.
You'll need to cut the tabs off the trays once they have been molded, so they fit in your mouth correctly; they are there to help you customize the trays to your teeth but then are not necessary afterwards. You won't be able to insert the light into your mouth if you don't cut the tabs off.
What we like about this whitening system is that you don't have to consistently use it to see results; using it several times a week or once a week will give you the same results, but it will just take longer if you don't follow a routine.
Fits Around Your Schedule
The ingredients in this system are similar to the kind of whitening gels dentist use across the United States and Europe, and so you can expect great results. The kit only comes with six treatments, which is much less than some of the other kits, but because there is no set schedule to follow and this kit is meant to deliver results over time, it seems reasonable to have only six treatments.
If you don't get the results you want after six treatments, you'll need to invest in more syringes, which can be a pain and not-so-cost-effective for some people. That's something to consider if you are interested in this whitening system from Shine.
Benefits
Doesn't have to be used consistently to see some results
Comes with remineralization gel for healthy teeth
Uses professional-grade whitening gel
Negatives
Unclear how many treatments it contains
Pearl Teeth Whitening Kit
This gluten-free tooth whitening kit boasts that it can give you instant results in as few as 1 to 2 applications! With this kit you can get a professional tooth whitening experience at home, without tooth sensitivity and at a fraction of the cost of professional dentists. It can dramatically remove years-worth of stains, leaving you with a beautiful, pearly smile again.
What Is Included
This kit includes 2 dental trays, 3 syringes of whitening gel, an LED light with batteries and a comprehensive instruction guide. The whitening gel is made from 44% carbamide peroxide to give you fast and safe teeth whitening.
The dental trays are intended to be molded for personal fit. This is simple to do by first softening them in warm water and then biting into them.
You then suck them in towards your teeth to ensure a close fit. Once they are molded to your teeth, place them in cold water so they can harden in this new shape. Afterwards, the whitening gel can be applied to the inner surfaces of your dental tray.
Treatments
The treatments are also very simple. After applying the whitening gel to your dental tray and inserting it into your mouth with a secure fit, apply the LED light and leave for 5 to 20 minutes. If you wish you can gradually work your way up to 45 minutes per treatment but take care as this is a long time to be exposing your teeth to the gel. After the time has passed you can remove the light and you can leave the gel on for another 10 minutes, but this is optional.
Once you are done, you can rinse the gel off your teeth and clean the light and the dental trays. The suggested treatment plan for the best results is 5 to 15 minutes per day, but it is not clear how many treatments should be completed in total. It also isn't clear how many treatments this kit can give. Having said that, with results seen as quickly as after the first use, you probably won't run out too quickly.
Remember to gently clean the remnants of the whitening gel off your teeth and try to avoid consuming staining beverages and foods in the days after. Overall this is a simple kit to use and you are likely to see results after between just 1 to 3 uses.
Benefits
Simpe to use
Fast
Moldable trays
Short treatment times
Negatives
Unclear how many treatments the kit can give
MagicBrite Complete Teeth Whitening Kit
The MagicBrite Complete Teeth Whitening Kit brings you professional-level teeth whitening with results in just a few treatments. It includes everything you need to restore your sparkling, pearly-white teeth. It uses advanced whitening technology to remove even tough stains like tobacco from your teeth.
What Is Included
The kit includes everything you need to bring back your sparkling smile. You get 5 large syringes of whitening gel, 2 custom-fit dental trays and 2 vitamin E swabs. You even get a shade guide so that you can compare your teeth at the start and watch them gradually lighten after each treatment. This means that you can see a completely objective view of the improvement the treatments have made to your teeth and you can see when you have reached your goal so that you don't overdo it too.
It doesn't say how much whitening gel you get in each syringe, but between 5 large syringes and given the suggested maximum number of sessions is 10 days, you should have plenty, most likely with some left over for future treatments.
Flexible Treatment Plan
While many teeth whitening kits require you to stick to a regular schedule to get the best results, the MagicBrite can fit around you. You don't need to use it on consecutive days to achieve the best results, you can instead use it as and when necessary. This also means that if you have sensitive teeth, you can still achieve the best results but at a rate that prevents further discomfort.
Moldable Trays
The two trays that are included in this set are a custom fit design. They are easy to mold by submerging them in hot water for a few seconds until they become supple and then biting into them, taking care not to scald your mouth from the hot water. You then just need to suck them into your teeth to remove any air and water trapped. If you don't get it right first time, you can just submerge them in hot water again and have another go until you get a comfortable, snug fit.
Easy To Use
Just like the moldable tray, the rest of the kit is also easy to use. You can use the whitening kit for between 5 and 15 minutes per day for up to 10 days. If you have any sensitivity, then wait 3 to 4 days in between treatments. Regardless of whether you experience sensitivity though, it is important to always rinse out your mouth after treatments.
Benefits
Flexible treatment plan – no need to treat daily
Custom-fit tray
Includes shade guide
5 large syringes
Negatives
Unclear which active whitening ingredient it uses
Unclear how many treatments it can give
Benefits & Negatives Of LED Teeth Whitening
When it comes to buying LED teeth whitening kits, there are a few things you should be aware of to make the best choice for your needs. Of course, not all tooth whitening kits are created equal, and that goes for the blue LED lights that come with these kits as well. Investing in a tooth whitening system is affordable and practical, and it can give you real results if you know what to look for in a good tooth whitening system. Remember, these are all at-home tooth whitening kits; professional kits that you would buy from your dentist's office are different.
What Are The Benefits Of Using LED Tooth Whitening Systems At Home?
The first benefit is obvious: whitening your teeth in the privacy of your own home is convenient and discreet. It is also much more affordable than going to the dentist's office every few months to have your teeth professionally whitened.
Since there have been many advancements made with at-home kits, you can get results that look professional, without the hassle. As always, you can find these great products and more online, and they can be shipped right to your door.
What Are The Negatives Of LED Teeth Whitening
While some LED teeth whitening methods can last for years, no whitening technique is ever going to be permanent because teeth will gradually color with age. If you cut down the lifestyle habits which speed up tooth discoloration, however, like smoking and drinking beverages that stain teeth, you will find the teeth stay whiter for longer.
The results are also based on how badly discolored they were to start with. More discolored teeth may require more treatments and may not achieve such great results. It also depends on the reason for them being discolored – lifestyle factors can be adapted, but if there is an underlying cause it might be trickier to achieve the results you desire.
Teeth whitening is not suitable for everyone. There has not been much research on the safety of teeth whitening in pregnant or lactating women, so it is best to delay your teeth whitening until after you have had your baby and finished breastfeeding.
Are There Any Side Effects Related to Blue LED Light Tooth Whitening Kits?
For the most part, at-home teeth whitening kits are safe for people to use as long as you follow the instructions and don't overuse it. They have been specially designed to be safe to use at home by untrained users. However, it is vital that you ensure your teeth are healthy enough to undergo whitening treatment because the amount of whitening agent that is present in some of the whitening kits could cause damage to your teeth if your enamel is not durable enough.
The lights that come in these kits, which vary in strength between kits, are LED, so they don't give off much heat, meaning they cannot cause burns. However, if you are not careful and get whitening gel on your gums or lips, you will likely experience some sensitivity in that area that could last a while.
If you have sensitive teeth, you'll want to opt for a lower dose whitening gel and be sure to avoid any overly sensitive teeth during the process; the gels could make the sensitivity worse. It's better to invest a tooth whitening system that offers remineralization or desensitization gels to help prevent sensitivity and damage during treatment.
While there should not be any pain associated with the use of these at-home teeth whitening kits, you should pay attention to applying the gels to ensure they avoid the gum region. Gums are delicate tissues and can be painful if they come into contact with the whitening gel.
What Is Included In A Blue LED Light Teeth Whitening Kit?
While some of the components might vary from kit to kit, the main pieces are usually going to be the same. Most LED teeth whitening kits come with a whitening gel that you either place in a tray, or like in the case of the Crest product that we looked at, the tooth whitening gel has been applied to strips that you can easily place on your teeth.
Both methods are effective, but it's the quality and composition of the whitening agent and effectiveness of the LED that makes the difference in the results you'll get from an at-home tooth whitening kit.
There are different strengths of whitening agent available, with hydrogen peroxide or carbamide peroxide being the most common types. For example, about 35% carbamide peroxide is a common strength. If you have sensitive teeth, you'll want to avoid some of the higher concentrations of that whitening solution, which can be as high as 44%.
If you have very stained or discolored teeth, you may find you need a higher level of the whitening agent or enough for more treatments so that you can get the best results possible. However, it is always advisable to consult your dentist for personal, professional advice before you begin treatments.
How Does The LED Light Device Work?
LED teeth whitening kits work by combining the bleaching ability of peroxide whitening agents which break down the chemical structure of stains with intense blue LED light which speeds up the chemical reactions.
LED light is a form of visible light which can be produced in any color, but blue light is commonly used in dental whitening. This stems from the history of teeth whitening, which originally used ultraviolet (UV) light to speed teeth whitening up. Blue LED light is a safer alternative to UV light because it does not cause mutations in cells. In comparison UV light is a form of ionizing radiation which can, therefore, affect tissue on a cellular level, potentially causing mutations. As the tissues of the mouth, as well as the nearby eye tissues, are sensitive, it is safer to use LED light for teeth whitening.
How To Use LED Teeth Whitening
Once you have applied the whitening gel, either in strips or tray form, you can turn on the blue LED light and hold it against your teeth. Some kits have a light you can bite down on so that you don't have to hold it in place, while others require you to sit still and hold the light in place as it works to cure the whitening gel. Most teeth whitening kits have LED lights that provide up to 460 nanometers of light, but it will vary from kit to kit. The light doesn't just help to cure the whitening gel; it actually helps activate the ingredients in it to provide the whitest smile possible.
Depending on which system you choose to whiten your teeth at home, you may find yourself doing several treatments over several days, or doing just two treatments with a few months interval. Generally, treatments that are fast, such as a system that requires only two treatments with an interval, won't provide long-lasting results the way a more gradual treatment system would. The longer you apply the light and whitening gel, the better the results will be. However, don't overuse any system that you buy. It is important to always follow all the instructions that come with the kit you choose to invest in so that you don't cause unwanted damage to your teeth.
Does Blue Light LED Teeth Whitening Really Work?
In short, yes, at-home teeth whitening kits do provide you with various levels of results and make your teeth look whiter than they were before. At-home whitening kits can provide you with drastic results, even if you have badly stained teeth, but the levels of results can vary depending on the kit, treatment time, adherence to the treatment regime, and whether or not you adopt good oral health habits both during and following the tooth whitening treatment. Read more about how LED light whitens teeth.
You can expect your results to last several months all the way up to three years. If you smoke, drink, and don't take care of your teeth, you can expect those results to diminish faster than the average user. Some at-home kits will provide you with maintenance treatments to keep your bright, white smile looking good for a long time, but it is important to floss and brush your teeth regularly. Read our other dental product reviews on electric toothbrushes and water flossers.
Frequently Asked Questions
What Is The Best Teeth Whitening Product On The Market?
The best teeth whitening product on the market is the AuraGlow At-Home Teeth Whitening kit. It is very easy to use and gives you fantastic, professional-looking results.
Is Led Teeth Whitening Safe?
LEDs release visible light, rather than ultraviolet light, which is known to harm cells and tissues. LED teeth whitening is therefore much safer than UV teeth whitening. However, care should be taken when applying the bleaching agent to teeth as it can cause discomfort and sensitivity to the gums.
What Is The Best Led Teeth Whitening Kit?
The best LED teeth whitening kit is the AuroGlow kit. The simple kit contains everything you need to get great teeth-whitening results at home.
What Does The Blue Light Do In Teeth Whitening?
Blue light is thought to speed up and enhance the results seen from teeth whitening procedures. Traditionally, ultraviolet light was used, but recently safer alternatives such as blue LEDs have been used instead.
Do Blue Lights Whiten Teeth?
When used alone, blue lights do not whiten teeth, nor does ultraviolet light. However, it is thought to enhance the reaction of the bleaching agent on the teeth, to improve and speed up the results.
Does UV Light Really Whiten Teeth?
No, UV light does not whiten teeth on its own. However, it does speed up the reaction of bleaching agents, giving you faster and possibly whiter results. If your teeth appear whiter after a day in the sunshine, it is likely because you have caught a tan!
I am raw html block.
Click edit button to change this html