Until you try one, you may not believe the difference a facial steamer can make to your skin. It sounds almost too good to be true; an effective beauty device that can unblock your pores and improve your skin tone, that is non-invasive and even relaxing! Well the benefits are within your reach, it is backed by science and it doesn't have a hefty price tag. Your new best friend for skincare is the facial steamer, and we are here to help you choose the best facial steamer to add to your beauty toolkit!
Facial steaming offers many beauty benefits, including combating early signs of aging, improving your skin tone, decongesting your sinuses and even improving the efficacy of topical products, while promoting whole-body relaxation. It is natural, organic and suitable for all skin types. A regular session of steaming can rejuvenate you inside and out, and what's best is that now you can do it at home, without the price tag of a professional facial, so it can easily become part of your skincare routine each week.
Why trust us? We have spent over 40 hours researching, testing and reviewing the best facial steamers on the market. We've considered technology, performance, durability and features, and now we present our line-up of the top facial steamers around so you can give yourself a professional facial at home!
Best Facial Steamer 2023: Your Top 9 Choices
1. NanoSteamer Large 3-in-1 Nano Ionic Facial Steamer
Editor's Choice: The Pure Daily Care NanoSteamer Large 3-in-1 Nano Ionic Facial Steamer is more than just a facial steamer. It is also a powerful room humidifier and towel steamer. It is durable, with an attractive design and it is extremely easy to use. In our opinion, this is the best facial steamer around!
This spa-quality facial steamer produces nano ionic steam by combining a regular heating element with a new ultrasonic vaporizer to give negatively charged ionic particles in the steam. Nano steam penetrates deep into your skin for greater moisturization.
It is extremely easy to use this facial steamer. You can remove the reservoir to fill it and easily toggle between the three settings using the dial on the front of the unit, which lights up to show you it is switched on. Although we found it took a little longer than others to heat up the water for its first burst of steam, our steam session with this unit lasted the longest. In our opinion, it also gave us the best blackhead removal tool kit too.
We love the towel warming chamber. It fits a single face cloth (which isn't included), and the setting is very effective. You can put the towel into the chamber wet or dry, but dry towels take longer to prepare.
Warning: Towels can get very hot when they are steamed, so you may need to use forceps to remove them.
Our only concern with this steamer is that the unit got the warmest out of all the models we tested. It wasn't enough to cause a burn, but it was noticeable, so take care not to move it around unnecessarily during and straight after use.
2. NanoSteamer PRO 4-in-1 Nano Ionic Facial Steamer
Editor's Choice: The second best facial steamer is the NanoSteamer PRO 4-in-1 Nano Ionic Facial Steamer, also by Pure Daily Care. This is the only steamer that we tested that offers cold steam as well as hot, and even has a dedicated aromatherapy chamber for fragrant steam.
This NanoSteamer is larger than the other models we tested, and it looks more like a machine than an ornament. However, it has a simple, modern design and we like that it has a proper lid to close and keep the nozzle clean. It also has the ultrasonic vaporizer combined with the conventional heating element, like its 3-in-1 counterpart. Instead of having a removable tank, it includes a jug for easy filling, and it has a plug on the bottom so you can fully drain it.
It boasts a 3x magnification mirror and an aromatherapy chamber, which we love! To add fragrance to your steam you can put fresh fruit or cotton wool with a few drops of essential oils into the basket, which you can also remove to clean.
We also love that this face steamer can produce cold steam as well as hot. It is intended to 'seal your cleansed pores', however, there is conflicting advice on whether that is effective. Regardless, cold steaming is very relaxing and refreshing, and can form a very enjoyable part of your skincare routine! The cold steam starts almost instantly, but you'll have to wait a bit longer for the hot steam, particularly as it has a larger tank capacity than the other models, so it takes a little longer to heat up. The cold steam lasts longer than hot steam, and this model makes a very powerful room humidifier!
It is louder than the other steamers we tested; it has more of a hum, however, you can also hear it bubbling more than others, which we found quite relaxing.
3. Lonove Nano Ionic Face Steamer
This at-home facial steamer gave us a strong, consistent flow of steam very quickly, and it was extremely quiet too! It comes with a 5-piece blackhead toolkit to help you remove dirt and blockages from your pores after your facials, in a very protective tin.
The design of this facial steamer is not only attractive, but BPA-free and green too; it is designed to save 36% of power. It has an efficient PTC heating element and sonic atomizer, which turns clean water into Micro-Fine particles, fast, giving you consistent nano ionic mist.
It is simple to use, and although the water tank isn't removable, it comes with a measuring jug to help you fill it. The Lonove facial steamer also features a medical-grade UV lamp to sterilize the water too.
4. EC Vision Nano Ionic Warm Mist Facial Steamer
The ECVision Nano Ionic Warm Mist Facial Steamer features a flower design in the nozzle, making it a great feature on your shelf when you are not using it for facial steaming! It also includes a transparent dust cap to prevent a buildup of debris on the steam outlet between uses.
It is very similar to the Zenpy Nano Ionic Facial Steamer (reviewed here later), holding the same 70ml of water to give you up to 12 minutes of steam time, and it's extremely quiet. It took a little longer to release steam than some other models did, but it gave us the strongest and most consistent steam of all.
The ionic steam moisturizes deep with your skin and is cleansing for your pores, leaving your skin smooth. It includes blemish extraction tools, which you can use to extract blackheads and impurities, such as makeup and dead skin cells from your pores, all enclosed in a quality case with a 3-times zoom mirror.
In addition to the dust cap, which helps keep this steamer clean, the design features an internal ultra-violet lamp to sterilize the steam before it is released from the nano ionic atomizer.
5. Okachi Gliya Nano Ionic Facial Steamer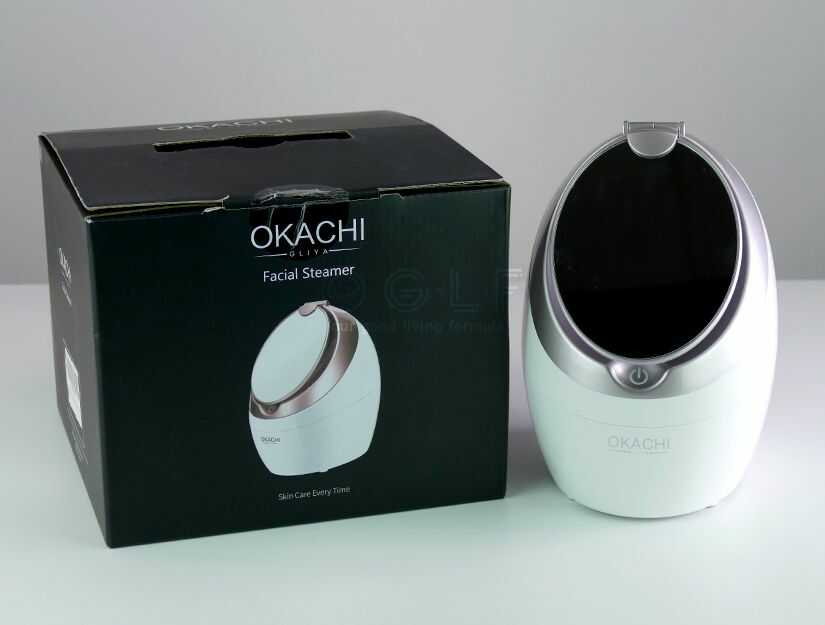 This nano ionic facial steamer by Okachi Gliya is a real feature for your dressing table! Its unique design features a large, double-sided mirror lid over the steam nozzle, which is fantastic both for applying makeup, or for extracting blockages from your pores, although this steamer doesn't come with skin care tools.
Just like the ECVision model, this Okachi Gliya steamer boasts a UV lamp to sterilize the water before it is emitted as steam. We found that this model gave powerful steam, and it came through relatively fast, although it wasn't as consistent as other models; every now and again it spluttered slightly.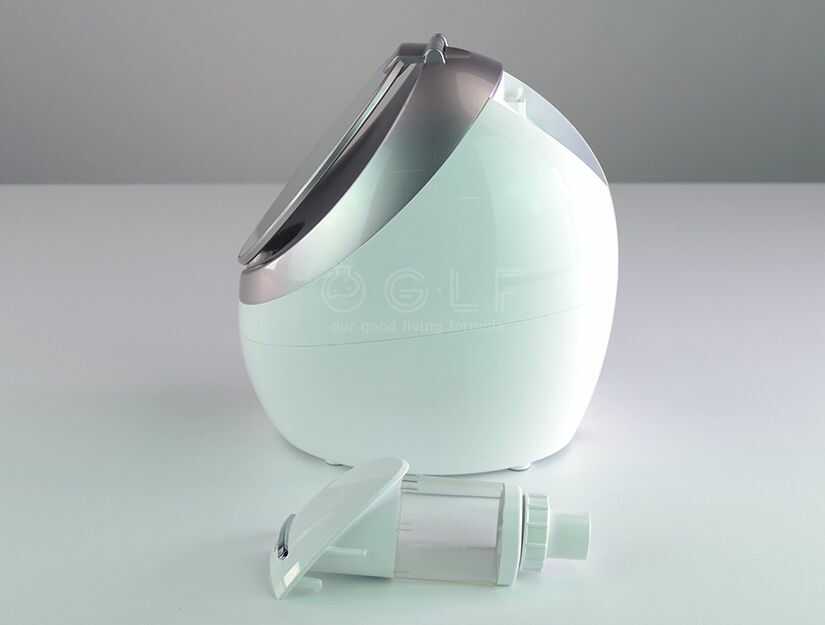 Overall, we liked the design of this facial steamer. It is very easy to release the water tank to fill it, and the 80ml capacity can give you up to 5 minutes of steaming. The mirror is a great feature and we liked how it turns the steam off when it is closed. We also like that it has an automatic shut-off function for when the water runs out.
6. Microderm Glo Steamer SPA+
This steamer by Microderm Glo is a compact, yet multifunctional nano ionic facial sauna and humidifier. It has a simple design and is the only steamer to have suction feet to hold it in place. We measured the water tank capacity at about 90ml, which should give you up to 15 minutes of steam.
We loved that you can change the angle of the nozzle on this steamer! It means you can really sit comfortably, and still get the best results from your steam sessions. You can adjust it by 30 degrees for the optimum position. We also like how the nozzle glows when it is switched on.
Despite its small size, this is a powerful steamer. It delivers a strong, consistent flow of steam, meaning it is definitely capable of operating as a room humidifier. It has a slight whistle, but there is no motor sound, so overall it is still a quiet facial steamer.
The only element we didn't like about this facial steamer is that it was the fiddliest to remove the water tank to fill. Otherwise, we are confident that this is one of the best facial steamers on the market, especially for multitasking as a humidifier too.
7. KingdomCares Hot Mist Nano Steamer
The KingdomCares Hot Mist Nano Steamer may be the smallest steamer we tested, but it still boasts an 80ml water tank, which can give you up to 10 minutes of steam time. We liked the white and gold design, but other colors are available too.
It is small but stylish, at only 16cm tall, so it won't take up much room. It is very quiet and produces steam fast. It is strong and pushes the steam far, but it doesn't produce such a thick cloud of steam as some of the other models. The steam mist is thinner and less dense, but it leaves your skin feeling refreshed. Therefore, although it is intended as a 2-in-1 face steamer and room humidifier, we feel it is best suited just as a facial steamer.
It has an automatic shutoff function that kicks in when the reservoir has run out of water. The design also features an ambient light, intended to be calming.
8. Zenpy Nano Ionic Facial Steamer
The Zenpy Nano Ionic Facial Steamer is extremely similar to the ECVision, but it comes in different color options, and it is available with different accessories, for example, a face mask spatula and hair band or blemish extraction tools.
This facial steamer is very easy to use. To prepare it, remove the water tank from the back of the machine, fill it with water and then click it back into position. We found it was one of the quickest facial steamers to heat up to the first puff of steam, and it gives consistently dense steam.
It has a compact and lightweight design. We particularly like the flower design in the nozzle, and how it also has a transparent dust cap. In use, the unit did heat up, but not as much as some other units. Its reservoir is small at only 70ml capacity, but it can give you 8 to 10 minutes of steam.
9. Secura Nano Ionic Facial Atomizer Humidifier
The Secura Nano Ionic Facial Atomizer Humidifier is one of the most portable steamers we have tested, thanks mostly to its handle! The attractive white and pink machine is small, yet powerful, and is almost completely silent.
This facial steamer is certainly powerful enough to double up as a room humidifier! It delivers a strong, dense mist of steam, so although it took slightly longer than the instructions anticipated, it also lasted considerably longer than we were expecting too, so it wasn't a problem. The 90ml tank is expected to give you 8 to 10 minutes of steam, but ours gave us over 15!
This facial steamer is very easy to use. It has a single sliding switch to turn it off and on, and when the water runs out, it automatically switches off. We liked the light in the nozzle that shows it is switched on. When the steam stopped, our light turned off, showing that the automatic shut-off function had worked.
Not Recommended: Beauty Nymph Spa Home Facial Steamer
Despite having many other happy users, we would not recommend the Beauty Nymph Spa Home Facial Steamer. It has the smallest water capacity, yet the steam sessions lasted the longest, but it also took the longest to begin. Unlike the other facial steamers we tested, it doesn't use nano ionic technology, so the steam particles don't penetrate so deep into your pores, and it isn't as moisturizing. You are essentially standing over a pan of boiling water. The water tank is not enclosed, and the machine feels flimsy and lightweight, so it is easy to knock over, in which case you have no protection from the boiling water. It also didn't deliver such a dense steam flow as other products, although this does intensify when you use the nasal mask.
How We Chose Our Line-Up Of The Best Facial Steamers
To form this list of the best at-home facial steamers, we spent hours scouring the internet, researching skin care and steam products, and looking for consumer experiences and reports from other users to highlight models that were particularly good and bad. This helped us to form a list of products to test.
In our experiments, we considered the time it took for the first puff of steam to come through, the temperature of the unit and the quality of the steam, among other factors, before also considering the aesthetics of each steamer. From there, we narrowed down our selection to the list we have here.
How To Choose The Right Facial Steamer For You: Features To Look For
If you're still unsure which facial steamer is the right one for you, here are the things that we think are important to consider in your final decision:
Automatic shut-off: probably the most important safety feature a facial steamer can have. This technology ensures the heating element turns off when the tank is empty, so it doesn't boil dry. This prevents the steamer from damaging itself, and reduces the risk of fire if you accidentally leave it on after use.
Type of facial steamer: most face steamers are nano ionic steamers, which means they produce nano steam. Nano steam particles can boost absorption into your skin layers by 10 times, compared to regular steam, meaning it can boost collagen production, improve skin elasticity and moisturize your skin.
Your main use: how you use your new steamer has an effect on which one is best for you. If you just want a simple face steamer for skincare, you have a lot of choice, but not every steamer is strong enough to be a room humidifier too.
Extra features: if you want to use your steamer for aromatherapy, you'll need one with a dedicated chamber like the NanoSteamer because adding essential oils into the water tank can damage the steamer. Alternatively, you may want a steamer that has a built-in mirror, like the Okachi Gliya, or one that includes extras like a pore extraction kit or a nasal cone.
Water tank capacity: steaming sessions don't require huge volumes of water anyway, but a larger tank capacity will give you longer running times. We recommend a tank size of at least 70ml.
Time to heat: in general, steamers with a larger tank capacity take longer to heat up, although all of the steamers we tested heated in under 2 minutes.
Durability: you don't want a flimsy steamer, especially as it will be containing boiling water. From our experience, all the steamers we have discussed are well built.
Quiet: steaming your face should be relaxing and enjoyable, and you don't want to be disturbing other people you live with either, so you don't want lots of noise from your device. All of these steamers were reasonably quiet, or almost completely silent.
Portable: although you may not want to take your at-home facial steamer on vacation with you, consider where you will be using and storing it. Some models like the NanoSteamer PRO, are less portable than others, so if you will be storing it between uses, choosing a lighter, smaller model may be best.
While the products we have discussed are high quality, they are all at-home facial steamers. A professional, spa-quality facial steamer is generally larger, more expensive, and often has a stand that is adjustable and gives greater support, allowing it to lean over you while you are laying down. In contrast, all the models in our lineup are at-home facial steamers, which are designed to sit on a table top instead.
How To Get The Most From Your Facial Steamer
An at-home facial steamer can be a valuable addition to your skin care and beauty regime. Face steaming can help moisturize dry skin, encourage blood circulation, and even increase collagen production. It can also soften dirt, makeup and impurities within your pores, meaning blockages are easier to extract.
Beauty experts suggest limiting your at-home facial steaming sessions to once a week, as overdoing it can lead to breakouts.
Here are some ways you can get the most from your facial steamer.
Whether you are using your at-home facial steamer for cleansing your pores or clear your sinuses, essential oils are a great addition to facial steaming. Be careful to only use essential oils if your steamer is suitable however, or it may cause damage. There are many different oils that you can use for skin care, for example, tea tree oil is great for acne-prone skin as it is antiseptic and anti-inflammatory, while chamomile is soothing.
For a spa-quality, at-home facial, combine steam with a topical face mask. The nano steam will enhance your blood circulation, meaning your skin is more effective at absorbing the nutrients from the face mask, therefore giving better results.
Even though nano steam imparts moisture to your skin, remember to moisturize afterwards. Using a facial steamer can make your topical skin care products more effective, meaning it can soothe dry skin and reduce blemishes.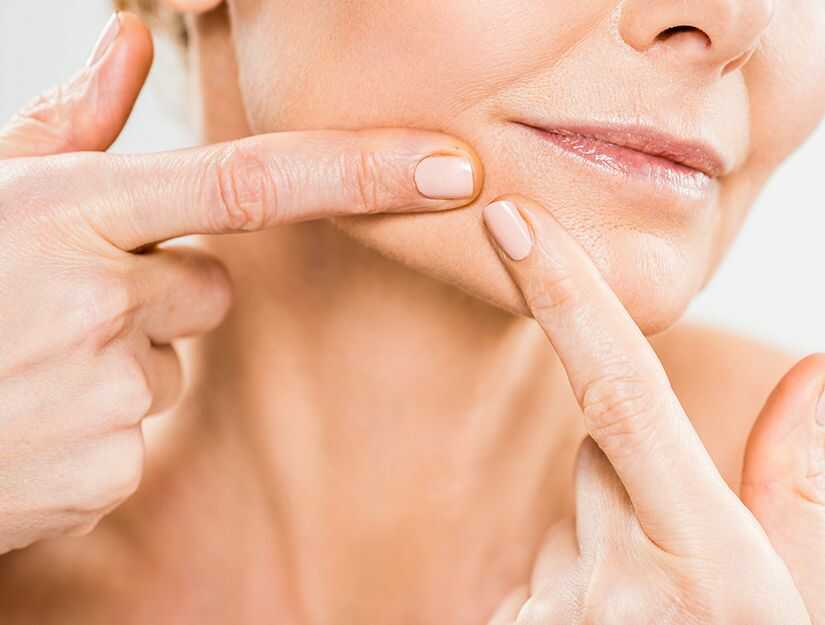 Squeezing blackheads is rarely recommended by beauty experts, but if you must remove them, it is best to do it with clean hands and tools, after washing your face and after a steam, when the dirt and impurities within your pores are slightly softer. Be gentle, and if it won't budge, don't force it, or you may scar your skin. Steamers like the Okachi Gliya with a large mirror are a great choice if you need a lot of extractions!
Clean Your Facial Steamer Regularly!
Don't use a dirty steamer for your facials, as you will just impart more dirt to your skin, and it won't be good to breathe in either. Each time you use your facial steamer, leave it to fully dry. Empty the tank, wipe the steam outlet with a cloth and if you have a cover, use it to ensure that dirt and dust doesn't collect around the nozzle.
Frequently Asked Questions
Overall, we believe the best facial steamer is the Pure Daily Care NanoSteamer 3-in-1 and the second best facial steaming machine is the Nanosteamer PRO Professional, also by Pure Daily Care. We hope we have helped you to choose the best facial steamer for you and that you can now enjoy regular at-home, spa-quality facials! We feel that facial steamers are a valuable addition to your skincare routine. If you would like to know more about facial steamers and skincare, please visit our blog for more articles.