Curling wands are one of the most popular styling products in our collection. Why? Because they are extremely versatile. They completely upgrade any hairstyle; giving shape to an updo, volume when you wear it down, or giving your face a beautiful ringlet frame.
You may be able to create beach waves with a flat iron, but curling hair is so much easier with a styling wand. Styling wands come in all shapes and sizes, so you have much more choice compared with the humble curling iron, which means if you are looking for a new wand, it's hard to know where to begin. Well, we are here to save you time and money by helping you choose the best curling wand for you.
Why trust us? We spent over 70 hours researching, testing and reviewing the best curling wands on the market, with professional advice from our in-house stylist, Paul. We considered performance, technology, durability and usability, and now we'll discuss which models came out on top.
5 Best Curling Wands For The Ultimate Beach Waves 2023
1. Best Overall: PARWIN PRO 7 in 1 Curling Wand Set
Editor's Choice: This fantastically diverse kit is the most versatile hair styling set we have ever tested. It gives you 7 different wands in one, for styling without limits. This interchangeable styling wand is easy to attach and detach, yet it is perfectly secure and fast to heat up. We believe it is the best curling wand overall.
Our testers LOVED the Parwin Pro 7 in 1 set, (far more so than the expensive T3 Whirl Trio Interchangeable styling wand, which only offers 3 barrels). Included, you get:
1.26 inch regular wand
1.0 inch regular wand
0.75 inch regular wand
0.5 inch regular wand
1.0 inch bubble (bead) wand
0.5 inch oval wand
0.5-1 inch tapered barrel wand
This fantastic range of ceramic curling tools gives you unlimited styling options, from beachy waves to tighter curls, and the wide range of adjustable heat settings means it is an excellent choice for all hair types.
The PTC heat technology gives you fast warm-up times and the tourmaline-ceramic barrels give you shiny, silky curls, no matter what your hair type. It even emits negative ions to cut down on flyaways and heat damage.
2. Best For Short Hair: BaBylissPRO Nano Titanium Conicurl
Editor's Choice: The BaBylissPRO Nano Titanium boasts 50 heat settings (up to 450°F), meaning it is an excellent choice for all hair types and textures, but the tapered barrel also means it is a great choice for those with short hair. It gives a beautifully soft, natural-looking curl and by using it differently, you can create different styles.
This BaBylissPRO curling wand has a nano titanium tapered barrel, with Sol-GEL Technology. This is a precise process which is used during its production to transform the titanium and ceramic particles from liquid to solid form, resulting in a higher concentration of these particles. This gives you a more resilient and smoother curling surface that is therefore gentler on your hair.
We were very impressed with this curling wand. Upon first impressions, it can appear cheap and plastically, but actually it feels very durable and performed very well in our tests.
In addition to the 50 adjustable heat settings, it also has a turbo boost function, which immediately increases the temperature. We liked this feature, it is great for targeting particularly stubborn areas of your hair. However, it isn't clear how long the turbo boost lasts for or what temperature it boots it to, so use this function with caution!
3. Best For Fine Hair: Remington CI9538 Pro Pearl Ceramic Conicurl Curling Wand
If you want a bit of luxury in your hair tool collection, look no further than the Remington CI9538 Pro. Its Ceramic conicurl barrel is infused with crushed pearls, aiming to give you consistent heat, faster styling and smooth, lustrous waves with less damage and no frizz.
The tapered, ceramic barrel is available in two different sizes, 1-1.5 inch and 0.5-1 inch, so if you prefer loose waves, go for the larger size, but if you prefer tighter spiral curls, choose the slimmer barrel size.
It has a good digital readout to display that nicely counts up to the temperature you set as it heats up. It took a little longer than other models we tested to heat up, but not hugely so. It has ten different heat settings, up to a maximum of 410°F (210°C), so it is great for a variety of hair types and textures, but overall we recommended it as the best choice for finer hair.
4. Best For Beach Waves: Bed Head Curlipops Curling Wand
We were pleasantly surprised by the Bed Head Curlipops. It is cheap-looking with a metallic finish that seems a bit naff, but it surpassed our expectations in performance. It created beautiful curls and silky waves, and it heated quickly, so sometimes simplicity is exactly what you need! It is ideal if you want to create smooth beach waves.
Expert Tip: To create natural-looking beachy waves, alternate the direction you wrap each section of hair around the curling wand.
This tourmaline ceramic curling wand heats to 400°F (204°C), but – and here's the downside – that is the only heat setting. Unlike all the other models we tested, it doesn't have adjustable heat settings, so therefore, it is best suited to thick hair that can withstand the hotter temperature, but importantly, healthy hair. Despite this lack of temperatures, we were impressed with this BedHead Curlipops, and it is also available in different barrel sizes and shapes.
5. Best For Loose Waves: Infinitipro by Conair Curl Secret
We have mixed feelings about the Infinitipro  by Conair Curl Secret. It gave us fantastic curls, but you need to use it with caution.
It's a hair curler with a difference; when you close the clamp around a section of your hair, it automatically draws your hair in, wrapping and curling your hair for you, as it claims; "hair goes in, curl comes out". We were slightly concerned about the combination of movement + hair, but it has plenty of anti-tangle features like the bristle-free design and reverse mode.
It is very intuitive and clearly indicates when it has reached temperature and when to release your hair. It didn't give us static, and it gave very soft, loose curls, but they needed a bit more hair spray to hold than others.
Take care when resting it against your hair as the side that comes into contact with your scalp can heat up, and ideally the outlet would be on the other side. Overall, this wasn't our favorite curling wand model, but it is fast and easy to use.
We Weren't Keen On: Sultra The Bombshell Rod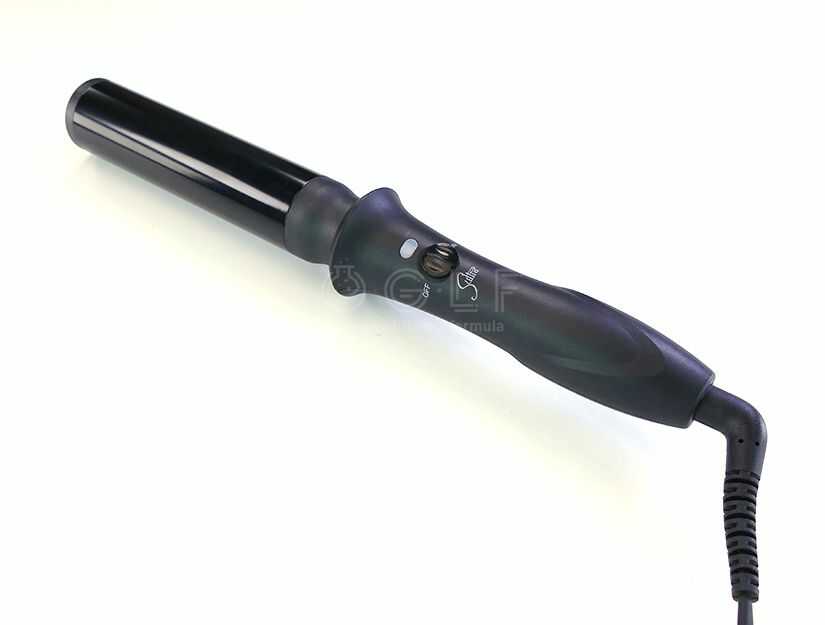 We were disappointed and surprised by the Sultra The Bombshell Rod curler wand, especially as it otherwise has such rave reviews. We purchased the 1.5 inch barrel (7.5cm), which boasted rapid heat-up and its ability to style any hair type. However sadly, we didn't experience this.
We tried multiple times to test it, but only managed to get it to switch on once, where it took a very long time to begin to heat up, and when it did, it was nowhere near hot enough to actually style and set your hair.
This may have been an unfortunate, one-off defective product, but due to our experience, we, unfortunately, do not recommend this curling wand, despite it having so many good reviews.
What Type Of Curling Wand Works Best?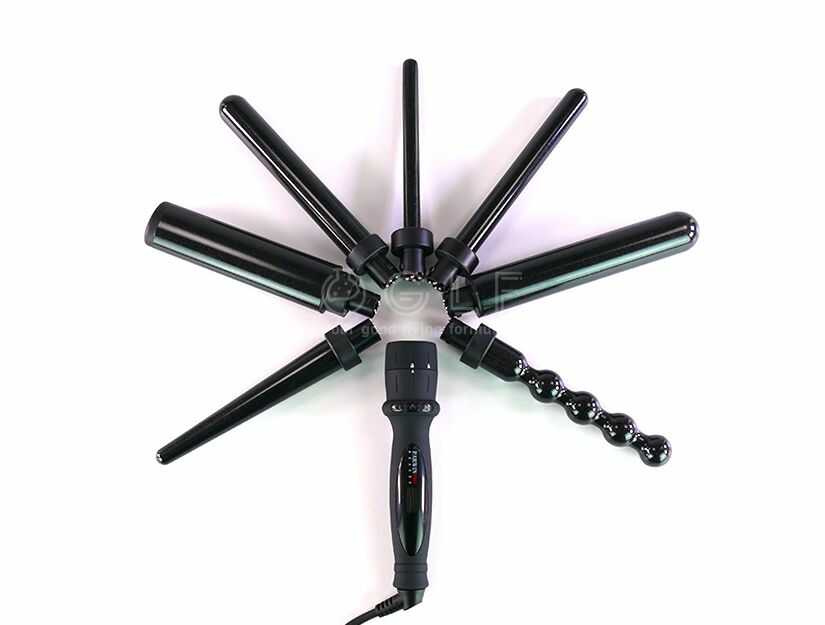 Just like when choosing a new blow dryer, straightener or hairbrush, ultimately, there is no one-size-fits-all answer to this. Everyone has a different hair type and texture, and therefore, has different requirements in their hot tools. In terms of the style, different wand shapes will give you different styles of curl, for example:
Regular, straight barrel = evenly-sized curls
Tapered barrel = natural waves, looser at the roots, tighter at the ends
Bubble = natural-looking, bouncy curls, which are all slightly different
Oval = flawless waves à la Blake Lively
Wide = wide, loose, blow-out style waves like those Victoria Secret models wear
The best barrel material on the other hand, depends solely on your hair, because everyone's hair is different. Tapered barrels often give longer lasting curls because the tighter ends holds it better.
Titanium is extremely lightweight, durable and conducts heat very well, meaning that heat is transferred quicker than from other metals. Therefore, if used incorrectly, it can cause heat damage, so it is best suited to coarse, healthy, thick hair.
Ceramic is smooth, and glides through your hair far easier than titanium. It is well-known for its fast and even heat distribution, meaning it warms your hair with a gentler heat. It is therefore best suited to regular and finer hair.
Tourmaline is often used as a top coat for ceramic hot tools. It is a mineral that naturally emits negative ions when heated, resulting in less static and flyaways, while it also helps to close the cuticles and result in smoother, shinier hair. In our opinion, tourmaline is the best choice for hair styling tools overall.
Frequently Asked Questions
We hope you have enjoyed reading our best curling wands review. We loved testing these wands, and hope that we have helped you choose the best curling wand for you. If you loved this, don't forget to check out our other reviews of popular hair styling tools.