There has never been a better time to grow facial hair. Whether you have a handlebar mustache, goatee or beard, there are many products out there that help you condition, soften, style and tame even the wildest of facial hairs. A favorite grooming aid among men has become mustache wax – and for good reason. Mustache wax helps you hold even the most stubborn hairs in place to create your own signature look. But with so many mustache waxes to choose from, you may be wondering which of them is right for you. That's why we made it our personal mission to find the best mustache wax on the market today. 
Best Mustache Wax Comparison Table
1. Best Overall Mustache Wax: MAAPILIM Mustache Wax
Editor's Choice #1: Maapilim takes the art of slow living to heart when crafting all of its health and beauty products. Using only the best ingredients and encouraging its customers to live intentionally, Maapilim has created the best overall mustache wax for men on the market – it's no wonder this product is our top favorite.

Nourishing Essential Oils
Maapilim Mustache Wax was formulated with nourishing essential oils to soften and soothe your hair and the delicate skin beneath it. Say goodbye to itchy facial hair and say hello to a soft kissable mustache. Topping our list of best mustache waxes, this one is animal-friendly and smells great. You know a product is a good one when top companies can't stop talking about it – and along with us, Maapilim Mustache Wax comes with impressive recommendations from Business Insider, Cool Hunting and Forbes.
2. Best Unique Scent: Fisticuffs Strong Hold Mustache Wax
Editor's Choice #2: The Fisticuffs brand of mustache wac is known for creating only the best grooming products for strong, masculine men. Loaded with high-quality ingredients, the Fisticuffs strong hold mustache wax has a pleasant bourbon scent, and it justifiably wins our award for being the best uniquely-scented mustache wax on our list.

Hand-Made With Safe Ingredients
Do you love supporting small companies that make high-quality products in small batches? If so, then Fisticuffs Strong Hold Mustache Wax is the right choice for you. Hand-poured in small batches, Fisticuffs wax is one of the best mustache waxes sold in the USA and for good reason. Fisticuffs Strong Hold Mustache Wax is also loaded with safe ingredients, making it ideal for everyday use. Enjoy the strong-hold and nourishing formula they've created with beeswax, coconut oil, jojoba oil, tea tree oil and raw petroleum jelly.
3. Best For Extra Hold: Edwin Jagger Moustache Wax
Need extra hold for your extra thick stache? Edwin Jagger Moustache Wax is specially formulated to keep all mustache styles in place even when you're out in the elements.
Edwin Jagger loves to create safe products with natural, earth-friendly ingredients. This mustache wax was crafted with beeswax, carnauba, petroleum jelly, and natural fragrances like bergamot and cedarwood. So you can use it everyday without worrying about what you're being exposed to. Whether you have a fu manchu or a full beard, this mustache wax will keep your stache looking great in the snow or the sunshine.
4. Best For Traveling: Grave Before Shave Mustache Wax, Teakwood
Like to keep your wax close by but hate having a huge pocket bulge? The Grave Before Shave Mustache Wax has a tin design that is so unique, we gave it our award for best traveling wax.
Active men enjoy a natural and intriguing smell, and this mustache wax was designed with an alluring woody aroma that will draw attention. With its unique blend of teakwood, amber, bergamot, cardamom, jasmine and lily of the valley, your stache will smell amazing all day long. The best part is that the tin still packs an impressive 2 oz of wax so you get a big bang for your buck.
5. Best For Natural Look: Taylor Of Old Bond Street Moustache Wax
If the natural look is what you're going for, Taylor of Old Bond Street Moustache Wax has got you covered. With a lighter hold than many of its competitors, it's easy to manage and can give you a more rugged look.
Taylor of Old Bond Street wax has a light, fresh scent that gives your mustache a clean vibe. With hints of lavender and citrus, this mustache wax is pleasant but not overpowering. So you won't be dealing with a strong smelling mustache below your nose all day. However this option may not be the one for you if you like your hair to stay perfectly shaped. Made in England, this is one for a natural look.
6. Best Textured Wax: Billy Jealousy Bulletproof Mustache Wax
Don't let the name fool you. The Billy Jealousy Bulletproof Mustache Wax has a strong hold, but it's also the easiest to use because of its gel-like texture.
Multi Use & Beard-Friendly
The Billy Jealousy Bulletproof wax is also beard-friendly and can help you style all of your facial hair with one convenient product. And even if you love the brand so much you want to buy more from them, they also sell a line of beard products including beard balm and beard oil. There's no need to use a hair dryer to make this mustache wax malleable, it sculpts the perfect style every time straight out of the 2 oz tin.
7. Best Styling Wax: Death Grip Mustache Wax
Death Grip Mustache Wax claims to be for serious mustaches only which is absolutely true. This mustache wax is strong, it can help you create a perfectly-shaped stache, and it will last throughout the day.
Pure & Natural Ingredients
Death Grip Mustache Wax has a pure formula. All of its ingredients are natural, it blends in with any hair color and it's unscented. So it is the perfect choice for men who have sensitive skin or who don't like unnecessary fragrances – there isn't one ingredient in this mustache wax that you won't love. It will hold through all types of activities giving it the award for the best styling wax on our list.
8. Best Hydrating Wax: Mustache Wax by Mountaineer Brand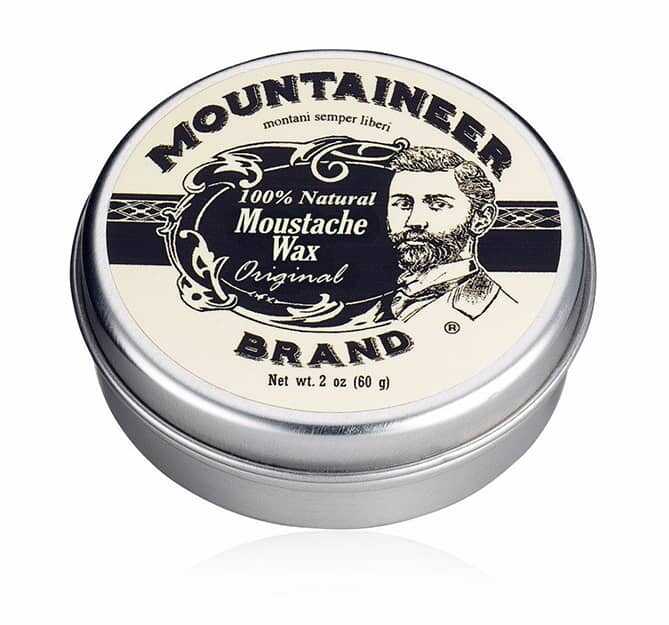 Mustache Wax by Mountaineer Brand is formulated with hydration in mind and includes beeswax, almond and coconut oil to soften mustaches all the way down to the hair follicles and to hydrate and nourish skin.
Many other mustache waxes on the market claim to be safe but sneak harmful chemicals onto the ingredients list. There's nothing worse for your mustache than product buildup and itchy skin. You can say goodbye to that problem with Mustache Wax by Mountaineer Brand who stands by its mission to be chemical-free, leaving out all petroleum, dyes, parabens and artificial fragrances. So you can feel safe and hydrated using it daily.
9. Best For Dark Hair: Firehouse Moustache Wax Wacky Tacky
Firehouse Moustache Wax Wacky Tacky made our list as the best mustache wax for people with dark hair. It's naturally tinted to blend in well with any shades of brown or black hair so you don't have to worry about artificial dyes.
It should come as no surprise that Firehouse Moustache Wax Wacky Tacky was designed to withstand the heat and humidity outdoors. However, if you have red or blonde hair, you'll definitely want to skip this wax. Created by a fireman, this wax will hold up in the hottest temperatures all the way down to the coldest temperatures and can even stand up to wind.
10. Best Soft Wax: Proraso Moustache Wax
If using a stiff wax that requires heating isn't your thing, check out Proraso Moustache Wax. It starts out like cream and turns into a waxy texture as you use it.
Proraso Moustache Wax is an ideal product for taming wild mustache hairs and keeping them away from your mouth. We found it easy to remove from the jar so you won't waste any time struggling to get it out meaning you'll have more time to shape your facial hair. It's easy to use and it will hold its shape all day, but it's not the best choice if you want certain styles like a dallas or horseshoe mustache.
Some top tips and guidance when choosing from the best mustache waxes out there.
Mustache Wax, Oil And Balm: Knowing The Difference
Learning the difference between mustache wax, oil and beard balm is not as tricky as it may sound.
Mustache wax is a stiff product with a thick consistency that is often sold in a tin or tube. It's used for styling facial hair and keeping the hairs in place, particularly on the outside edges of a mustache. Once your facial hair is at a manageable length, you can use mustache wax to style the hair to your liking. Not only does it tame wild hairs, it also keeps hair in place when you're out in the elements. And although it's often scented, mustache wax has a far less potent smell than most beard oil and beard balm.  
Mustache oil is similar to beard oil in that it is a liquid product with a thin consistency that is often sold in a bottle. Its purpose is to soften facial hair and to condition both the hair and the skin underneath it.
Whilst eliminating dandruff and itchiness, mustache oil also prevents:
Dry skin
Skin Irritation
Skin cracking
Split ends
Ingrown hairs
Mustache oil does all of these things while also making it easier to style your facial hair. And there are many scents available when it comes to oils so you can easily find one that you enjoy. Need a razor for your facial hair? Read our review of the Best Travel Shavers & Electric Razors and the Best Safety Razors to pick the best one. 
Like beard balm, Mustache balm is a smooth product with a thick consistency that is often sold in a tin. It allows the user to shape and style facial hair while also nourishing it. Like beard oils, mustache balm softens hair and prevents chafing, dandruff and inflammation. It also adds volume and shine and eliminates patchiness and frizz. Balm stays on your hair and skin longer than beard oils so it tends to moisture for a longer period of time as well.
When choosing between wax, oil, and balm you'll want to keep your facial hair length and texture in mind.
Ingredients In Different Mustache Wax
Like all products, you should become familiar with the ingredients of mustache wax before making a purchase.
The most common base ingredient for mustache wax is beeswax. Beeswax is a natural product made by honey bees. And it has anti-inflammatory, antibacterial and antiviral properties which makes beeswax an excellent choice when it comes to skin care.
Benefits of beeswax:
Creates a protective barrier
Allows skin to breathe
Non-comedogenic
Another popular ingredient in mustache wax, shea butter is also a natural product and comes from the oily kernels of the African shea tree. It's loaded with Vitamins A, E and F and fatty acids which all keep skin looking healthy, hydrated, and happy. Shea butter conditions skin so well it's used to treat many skin conditions such as eczema, dermatitis and psoriasis.
Many mustache waxes also contain petroleum jelly. Petroleum jelly is a skin protectant that is made from mineral oils and waxes, and it's often used in skin care products like lotions and cosmetics. It helps to prevent chapping, chafing, scarring of the skin. Plus, it's recommended for use on dandruff, rashes, and other skin conditions.
Petroleum jelly is a by-product of the oil refining process so some people may want to avoid it.
Also found in many mustache waxes, plant-based oils are carrier oils that are derived from plants, and they add many natural benefits to skin care products. The most common plant-based oils found in mustache waxes are coconut oil, eucalyptus, olive, jojoba and tea tree oils. These oils easily absorb into the skin, keeping it protected from contaminants and hydrating it.
Mustache waxes are typically made with several natural ingredients making them safe enough to use daily. Of course, some mustache waxes do have chemicals in them that may be toxic in large quantities so you'll want to check their ingredients list carefully before you decide to buy.
Choosing The Right Mustache Wax For You
There are several important factors to keep in mind when it comes to choosing the right mustache wax for you.
Consistency Of Your Facial Hair
First, it's always important to keep the length, texture, and thickness of your facial hair in mind before you make a purchase. Men with short, fine, or thin mustaches may only need a small amount of light-weight product to look their best. While men with long, coarse, or thick mustaches will need a lot of firm-hold product to get the same desired effect.
Next, you want to think about your ultimate goal when it comes to styling your facial hair. A wax with a light-hold is perfectly fine for taming a few wild hairs, but you'll need a strong hold mustache wax if you want to create a perfectly shaped stache.
Ingredients & Compatibility
Lastly, check out the ingredients list on the mustache waxes you're considering. Many of them are made with a beeswax base and other natural ingredients, but of course, some mustache waxes on the market have ingredients that may be considered harmful in large quantities. And since many stache wax products are scented with essential oils, you'll want to find one that has a pleasant fragrance that you'll enjoy.
You may want to try several mustache waxes before you find the perfect product for you.
How To Apply Mustache Wax
Applying mustache wax is a simple process and with a little practice, you'll be styling your facial hair to perfection in no time.
The first thing you want to do before applying stache wax is to make sure that your facial hair is clean and free of any product buildup.
Open the tin or tube and scoop a small amount of mustache wax out with your fingernail.
Apply the wax to the middle of your mustache and work your way out, gently pulling the wax through to the ends of your mustache hair on both sides.
Using your fingers or a small mustache comb, repeat the process a few times to make sure that the wax is evenly distributed throughout your facial hair.
Style your mustache to your liking.
Slightly damp facial hair is fine, but you'll want to get most of the water out of your mustache and refrain from using beard oil, beard balm, or other styling products at this time.
Mustache wax can be very sticky and thick, so by rubbing two fingers together, it will warm up the wax and make it easier to work with. Many men find that using their thumb and index finger works best.
Depending on the length, texture and thickness of your hair, you may need to add more wax to get the desired result.
Some men prefer to simply keep their hair away from their mouth while other men prefer to create a signature look such as chevron, fu manchu or a handlebar mustache.
Frequently Asked Questions
After reviewing popular tried and tested products, we found the best mustache wax available for purchase. The Maapilim Mustache Wax is the best overall wax and can be used on either a mustache or a beard. It nourishes hair, and it's highly recommended by several top companies. Fisticuffs Strong Hold Mustache Wax is another great product to make the top of our list. It's hand poured and safe. Either of these best mustache waxes is a good buy – your beard or mustache will thank you!