Do you love the hairstyles of all those girls with perfect curls and beachy waves? No other hairstyle looks so sophisticated and effortless yet fitting for all occasions, even the Met Gala! But let me tell you a secret – hair wavers are lifesavers for all girls who are not blessed with natural curls. So let's find the best hair waver for getting the perfect hairstyle! There are a lot of options to choose from! A triple barrel hair waver or a deep waver – find what works best for you! To make your search easier, I have listed the top hair wavers on the market below!
Best Hair Waver Comparison Table
1. Bed Head Wave Artist Ceramic Deep Hair Waver
Editor's Choice #1: Bed Head Wave Artist is one of the best deep hair wavers you will find on the market today! It is very easy to use and looks a lot like a flat iron. Its simple design sets it apart from other similar products! Creating beautiful waves has never been easier.
No matter what your hair type is, this deep hair waver iron will become your best friend pretty soon. It is great for beachy waves – and who doesn't like them?!
Its double dosage of tourmaline ceramic technology will help you get long-lasting results without frizzy hair and your hair will have a massive shine. Temperature settings allow users to choose the right heat setting for their hair type – low temperature for fine and thin hair, medium temperature for wavy to medium hair type and high temperature for thick hair.
What I found great about this hair waver is the fact that it is pretty light and very easy to carry around. If you are looking for something to pack into your bag easily when you are traveling, this is the best curling iron you will find. It auto shuts off when you are done curling your hair, so you don't have to worry about it around your kids.
2. Alure Three Barrel Curling Wand
Editor's Choice #2: This Alure Three Barrel Curling Wand works perfectly on all hair types. It is one of the best triple barrel curling irons you will find on the market today! It creates gorgeous continuous waves and you will get the look you want in a second. Did I mention a lifetime warranty? It will last for a long time and be your best friend for many years!
Regardless of whether your hair is short or long, thick or thin, this Alure three-barrel tool will give you the desired look! If you compare it to single barrel styling products and the fact that it takes ages to get perfect curls, this three barrel curling iron wand makes your hair curly in a matter of minutes.
What I found great is that it has adjustable heat settings and produces instant and consistent heat in just 60 seconds. So, if you are in a hurry, just grab this hair waver and get the look you want. Beachy, shiny waves or natural looking curls? No problem! This triple barrel waver is great for all of them!
3. Bed Head Makin Waves "S" Waver
Want "S" waves? This tool is great for them! Its double ceramic barrels reduce frizz and make shiny waves. It doesn't matter what your hair type is, I am sure you will absolutely love this hair waver.
It heats up to 400 degrees Fahrenheit (200 degrees Celsius) very quickly and if you have thick hair, this is one of the best products you will be able to find for making shiny waves. Do you want to get the look like you just came from a tropical island? You can get it easily!
This styling tool is very easy to use. It's compact and lightweight, so there's no need for extra space in your luggage! The tangle-free swivel cord makes it even easier to use and move around your head while you are making perfect waves.
4. Conair Double Ceramic Triple Barrel Waver
Go ahead and try new and different hairstyles with this fantastic triple barrel curling iron. If you want to create gorgeous continuous waves and change your everyday style, this is the right tool.
Styling with double ceramic barrels has never been easier! It gives off instant and consistent heat for you to get the best results possible. Its 30 heat settings and amazing Turbo Boost are just two of the great features this hair waver has.
What I love the most about this hair waver is the fact that its technology protects your hair. Your hair not only waves but it comes out extra shiny and looks fuller and healthier.
Cleaning this hair waver is simple. Be sure to disconnect it from the power source, allow it to cool and just wipe it with a cloth. As simple as that!
5. Bed Head A-Wave-We-Go Adjustable Waver
Are you looking for the best hair waver that offers various styling options? You have come to the right place! 
Let me tell you about this hair waver's amazing features. The middle of this three-barrel curling iron can be adjusted so you can change the depth of your waves depending on the style you are looking for.
There is no limit to how many styles you can try if you buy this hair waver. Going for beachy waves, loose waves or defined ones? It doesn't matter which type of waves you want, you can get them easily.
The amazing tourmaline technology boosts shine and helps with reducing damage and frizz from too much heat from a curling iron. This is very important if you become a curling addict, like most women do (I was one of them too). It is always a great plus if a hair curling iron doesn't cause damage to your hair!
Going on vacation? No problem – this tool has dual voltage and is lightweight which is useful when traveling.
6. Revlon Salon Ceramic ¾" Hair Waver Iron
This curling iron is a handy tool for creating perfect waves. Its tourmaline ceramic technology protects hair from styling damage. Its colorful design will grab everyone's attention for sure.
It doesn't matter whether you have thick or thin hair, choosing this hair waver iron will be a good decision. It heats up to 430°F and has 30-speed settings which gives you full control of temperature when styling your hair.
One more thing about this Revlon Salon Hair Waver Iron that's great is that it is designed to take care of your hair and it will help you achieve the perfect look. Your hair will be beautiful and extremely shiny and everyone will love it.
This best hair waver is manufactured with a ¾ inch deep groove to create perfectly crafted waves you have always dreamed of. It is great for all hair textures, types and lengths – what else could you look for?
7. 3 Barrel Curling Iron Wand Dual Voltage Hair Crimper With LCD Temp Display
Are you looking for a great hair curling iron to get elegant and natural-looking curls? You have come to the right place, as this triple barrel hair waver is one of the best on the market!
If you don't have much time in the morning and you want to get gorgeous curls using a simple hair styling tool, this hair waver with its high-grade ceramic barrels will become your best friend. It goes from 0 to 410 degrees F (210°C) in just 60 seconds – fast enough, don't you think?
Its ceramic glaze coating technology will protect your hair and make it much healthier and shiny. Get the best hairstyle in a minute regardless of your hair type and make your hair shine throughout the day. It also has an LCD display so you can see which temperature you are using. 
8. REVLON 3 Barrel Ceramic Jumbo Hair Waver
Dreaming about beachy waves but your hair is too thick or thin? Don't worry! This fantastic Revlon Hair waver can help you get the desired look.
Tourmaline ceramic coating helps in reducing the damage from heating and overusing hair styling tools. It creates deep luxurious waves that everyone around you will love. That is why this is maybe the best hair waver you can choose.
What makes this curling iron different from others on the list is its size. It lets you style large sections of your hair. And one more thing – the unique, extra-wide middle barrel produces the smoothest, deepest waves for the professional hairstyle finish. 
Wondering if this is the right tool for your hair type? Don't worry, you can select the ideal styling level for your hair. Choose one of 30 heat settings for precise control.
9. Conair MiiniPro Deep Waver
Looking for a mini hair waver to take it with you everywhere you go? Then this Conair MiiniPro deep hair waver is the best hair waver for you!
This pocket-size hair styling tool is perfect for traveling. It heats in 30 seconds so no more stress during the busy mornings. 
This triple barrel curling iron has a ceramic coating that prevents hot spots and hair damage. That is very important if you plan to use this barrel curling iron often. 
It may be small, but it is a powerful little hair styling tool. It will provide guaranteed shine to your hair, both in the comfort of your home and in the luxurious hotel you will stay at while traveling.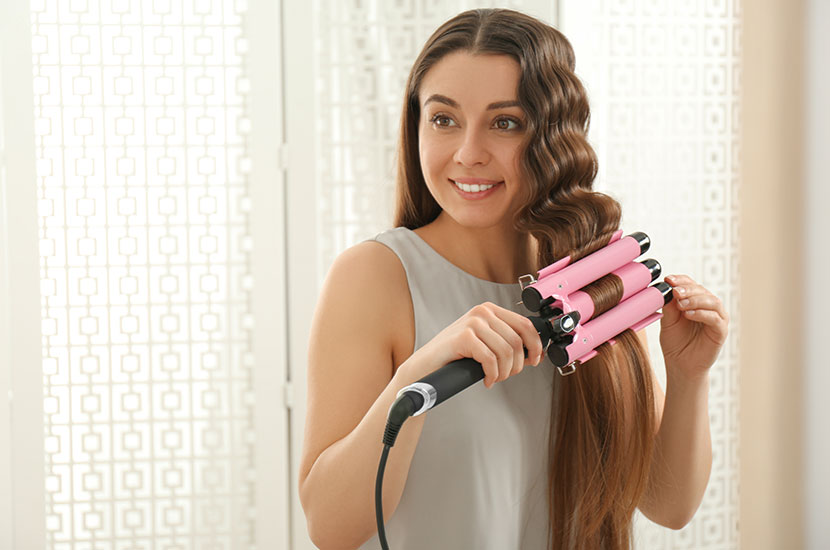 A hair waver is a type of hair iron whose job is to curl the locks of hair. It is a bit hard to use it at first, but when you learn how to use it, you will become a curling master. There is really no need to be wary of this wonderful curling tool, as getting a natural curly look or beachy waves has never been easier, thanks to this technology.
Okay, now you have found the best hair waver for you, how can you use it? Don't worry! Let's take a look at this how-to guide together:
It is very important to choose the best hair waver for your hair. Your final choice should depend on your hair type and the length of your hair (some hair wavers are better for long and other wavers for short hair). Also be sure to choose the right barrel size, look for multiple heat options and make sure that the material of the barrels is good.
Always take time to prepare your hair properly. That will yield better styling results now and lead to healthier hair later. If possible, wash your hair the night before. If not, make sure to completely dry it before starting the procedure. Always add heat protection before using hot tools! If you want your beachy waves or loose curls to last longer, use a curl enhancer.
It is always better to make sections in your hair. Work one section at a time, while other sections of your hair are secured with a large hair clip. Place the hot part on the bottom and start making waves. Hold the hair waver for 4 – 5 seconds and then continue moving it down 1 inch (2.5 cm). When you are done and satisfied with the results, finish your look with a light hair spray.
Key Things To Look For In A Hair Waver
These are the key things you should look for when buying the best hair waver for you:
The barrel size determines the size of the waves you will get in the end. Deep waver gives more vintage-style waves, for example. And thinner wavers create beach loose waves.
Most hair wavers are a bit heavier than, for example, curling wands. If you choose to buy heavy styling tools, curling your hair can become a bit harder. The weight of the hair waver will have an impact on how easily you will be able to finish your style.
Remember to try a hair waver before buying it to be sure you can use it with ease!
The number of barrels determines the shape of the waves that you will get when you finish styling your hair. You can choose between one, two or three barrel curling irons.
When you choose the best hair waver for yourself, you should look for some extra features. Will it protect your hair? Does it have a number of heat settings? Can you try different hairstyles? These are just some of the features you can look for.
The more temperature settings the hair waver has the better for you. Some hair wavers come with multiple heat settings. Some of them heat up in 60 or fewer seconds. Read descriptions in order to get the best hair waver.
Ceramic tourmaline coating is the best. It minimizes the heat damage to your hair and as a result, you will get long-lasting curls.
Before you even start looking, set your budget. Maybe you will find the best one, but you will not be able to afford it. If you are going to use your hair waver very often, you probably want it to last for a long time. Make sure to read reviews before you choose the right one for you. 
What Is The Difference Between Curling Iron, Tongs, Wands And Hair Wavers?
Here are the main differences between curling irons, tongs, wands and hair wavers:
● Curling tongs have a clip that holds your hair in place while you're curling it
● Curling wands have a tapered barrel that you use to wrap your hair around
● Hair wavers have a waving surface that you run your hair through
Top Tips For Using A Hair Waver
Here are the top tips for using this hair styling tool:
Beach Waves On Natural Hair
Three barrel hair waver is the best tool you can use to get beach waves on natural hair. Apply heat protection and then section your hair. Crimp down from the top of the hair to the bottom. Start a few inches down from the root to get a more natural beach look.
Mermaid Waves On Short Hair
To make popular mermaid waves on short hair use a hair waver and take larger sections than usual. Curl them with a waver and hold them down for less time to get desired results. This is the best thing about hair wavers, you can curl larger sections than with traditional curling iron.
Messy Waves On Short Hair
The trick to getting messy waves on short hair is to straighten your hair using a hair iron. Then grab your hair waver and style all your hair in waves. At the end, you can brush it or run your fingers through your hair to get messy waves.
Frequently Asked Questions
New technology has been developed in the hair styling tools market. Now we are able to get the perfect look we have always dreamed of using high-quality styling tools. Hair wavers are one of them. The best thing is that everyone can use hair wavers – regardless of their hair type, hair length or hair texture. There are so many different types of hair wavers out there! I have made a list of the best of the best, hopefully, you will find the best hair waver for yourself! Make perfect waves and enjoy!