Exercise bikes remain one of the most popular choices for home exercise equipment, and it is not surprising why. They offer an intense, cardiovascular workout to suit any fitness level, without putting strain on your joints, like other forms of exercise do. But with popularity also comes a huge choice, which means that it can be hard to decide which one is best for you. So to help you to determine which is the best exercise bike for you, here are our exercise bike reviews.
Why trust us? We have spent over 50 hours researching, testing and reviewing the top exercise bikes on the market with a wide price range. We considered build quality, resistance settings, ease of use and comfort, among many other factors, so keep reading to find out which exercise bikes we think are the best overall!
Best At-Home Stationary Bikes Comparison Table
Editor's choice: The Nautilus U616 is an excellent stationary bike for both seasoned athletes and absolute beginners. It has a sturdy build that ensures you have a comfortable, reliable and quiet workout. It had the best range of resistance settings and exercise programs of all the bikes we tested, and remains challenging, no matter what your experience and performance level! Overall, it is the best exercise bike we tested, and would suit both a professional or home gym.
The U616 upright exercise bike has a high speed, high inertia drive system and a perimeter weighted flywheel. This gives you an easy startup when you first start pedalling and smooth consistent workouts.
This bike is very easy to assemble; it took one person in our testing team under an hour to set it up, and it comes with all the tools required. It has a built-in fan and the seat is wider than other bikes, and although it wasn't the most comfortable seat of the bikes we tested, it is well padded and supportive. The pedals are wide and sturdy, with adjustable straps and good grip, to keep your feet in place.
There are heart rate sensors on the lower portions of the handles, but if you prefer to hold the handles higher up, the bike is also enabled for telemetry.
Fantastic Range Of Settings
The U616 had the largest range of settings of all the stationary bikes we tested. It has 25 levels of resistance and 28 unique training programs, including simulations, such as rolling hills and other challenges, to keep your workouts interesting.
Our only complaint about this bike is that in order to be able to view your workout metrics and change your resistance settings, you will have to plug it in, but as it is such a comprehensive piece of workout equipment, this is a compromise worth making.
While Bluetooth connectivity is a desired feature found in many exercise bikes, for example, for synching your workout data to fitness apps like My Fitness Pro and Health, the U616 offers something a little extra. It is compatible with apps such as Explore The World and Ride Social, which can add a bit of excitement to your indoor workouts. These apps give you immersive, mixed reality experiences along many famous cycle trails and routes, which are controlled by your real time workout stats!
We originally passed this off as a gimmick, but in fact it is extremely engaging, and a good encouragement to get pedalling! You can even get friends to join you remotely, and cycle these trails 'together'! All you need is a smartphone or tablet, but you can take it even further and get a VR headset!
Editor's 2nd Choice: Our top choice for recumbent exercise bikes is the Exerpeutic 900XL. It is a great option for those who want a more comfortable workout position or if you have mobility issues, as it has a low step-over designed frame. Overall, the Exerpeutic 900XL was the best recumbent exercise bike we tested.
Comfortable Yet Challenging
The Exerpeutic 900XL recumbent bike features many elements to ensure that your workouts are comfortable, but still has the scope to give you a challenging workout. The seat is well-padded, and it has a very comfortable, supportive recline angle. Its handles, with built-in heart rate monitors, are well-placed at your side.
It is easy to adjust the seat forwards and backwards, but the height and recline angle are fixed in place to ensure stability. The pedals have good grip, but they may be a little snug around your sneakers if you have larger feet, so you may be more comfortable in cycling shoes.
The LCD display has a large readout, which displays your pulse, time, speed and other workout metrics. It gradually scans through the different workout metrics and you can use it to set fitness goals, but it doesn't have Bluetooth connectivity, so to keep a record, you must manually transfer your workout data.
The 900Xl has 8 levels of magnetics tension. This gives you a good variation between settings to ensure your workouts remain challenging. It is also extremely quiet to use, so you can multitask while you work out, or simply pedal away knowing that you won't disturb your resting family!
3. Sunny Health & Fitness Pro Indoor Cycling Bike
The Sunny Health & Fitness Pro Indoor Cycling Bike was the sturdiest bike of all the models we tested. The unique shape of the handlebars supports you in different cycle positions so can remain comfortable, even during longer rides. It is an excellent choice for spinning in your home gym!
This indoor stationary bike is actually a spin bike. Spin bikes are different from upright stationary bikes because you have a more hunched forward position, and pedals are further out and in front, and often they have an emergency brake.
This is a different style of exercise bike, as it doesn't have the traditional pre-set resistance settings. Instead, you tighten the grip of the felt brake pad system. This gives you great control over the tension you are pedaling against, providing intense workouts.
You can choose between belt and chain drive, and the flywheel weighs 40 pounds (18 kg), making this the heaviest exercise bike we tested. This greater weight gives you more momentum for longer workouts, and the belt drive system ensures it remains perfectly smooth. But in case you get a little carried away during your workout, like some of our testers did, there is an emergency brake.
Closest To Riding Outdoors
We felt that riding this exercise bike gave us the closest experience to riding outdoors. This was partially thanks to the smooth motion of the pedals, but also because the seat is exactly like that of a road bike. While this gives an authentic cycling experience, it does mean that unless you are accustomed to slimmer bike saddles, longer workouts may not be as comfortable for your backside when you first start using this bike!
The Marcy ME-708 is a compact and more budget upright exercise bike. It has a far smaller footprint than the U616, and it doesn't have the same console technology. However, it is sturdy and gives you everything you need for a challenging workout. It is an excellent choice if you don't have much room and it is lightweight so you can easily roll it away after your workouts.
The LCD display shows your speed, distance, pulse and other metrics clearly, and unlike some of the models we tested, the shape of the well-padded, comfortable seat didn't hinder our ability to pedal at all.
The Me-708 has premium steel construction, meaning it is durable and looks great. Its magnetic resistance system offers you 8 levels of resistance, which you control using the simple dial on the stalk of the handlebars, and while this is much smaller than other models, there is a great variation between the settings, so you can still get a great workout no matter which you select and there is plenty of scope to keep challenging your fitness.
We found the handlebars were very comfortable to grip, and they have heart rate monitors on the side arms. The pedals may be a little snug if you have particularly large feet, but they give good security and stability.
5. Exerpeutic Folding Magnetic Upright Exercise Bike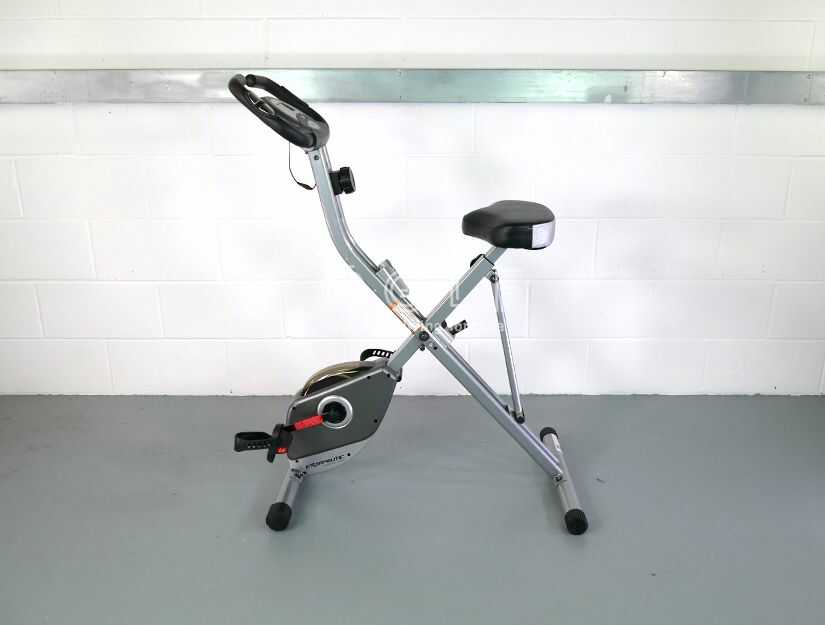 If you are particularly tight on space or want to be able to tuck your exercise bike away in the cupboard between workouts, then this is the one for you. The Exerpeutic Folding Magnetic Upright Exercise Bike packs down to half of its fully assembled size, quickly and easily, and it even has transportation wheels to make that easier. Despite being easily packable, it is suitable for cyclists 5'3 to 6'1 (160-185 cm).
While it technically is an upright bike, the pedals sit further forward than a regular stationary bike, though not as far forward as they do on recumbent bikes. There are, however, good grips on the pedals and they have adjustable straps to secure your feet in position. The seat has a decent 6cm depth of padding, and the handles are comfortable and supportive, with a tactile foam covering, and pulse readers on each side. The metric display computer shows your speed, distance, pulse, time, odometer and calories burnt, and you can view these metrics very easily.
6. Marcy Fan Exercise Bike NS-1000
The Marcy Fan Exercise bike is somewhere between an upright exercise bike and an elliptical machine. It gives you a full body workout, because rather than static handlebars, like you usually get on a stationary bike, the handles pump as you cycle. This dual-action mechanism is designed to train both your upper body and lower body, simultaneously.
The Marcy Fan Exercise Bike has a unique air resistance system controlled by a dial. The air resistance also helps you to stay cool and comfortable as you workout, so you may find that you can train for longer too, but we found that this system is not as smooth as other exercise bikes we tested.
It also has a small LCD screen that displays the workout time, speed distance, calories burned and odometer, but there are no heart rate monitors so it doesn't track your pulse. This is a very easy interface to use.
7. Exerpeutic ExerWork 1000
If you struggle to find time to workout, the Exerpeutic ExerWork 1000 is the exercise bike for you. This folding exercise bike is not only extremely quiet, but it is designed with a 3-way adjustable desktop for you to rest your notepad, laptop or tablet on so you can get an effective cardio workout, while you work!
This can improve your creativity and alertness at work, in addition to all of the other benefits of exercise bikes, which you can read below.
The seat is extremely comfortable, with a 2.5 inch (7cm) thickness of airsoft padding and a comfortable recline angle. The handlebars at your sides are lower down than on most recumbent bikes; our testers needed their arms fully stretched down to reach the pulse monitoring sensors, but we were not concerned as the focus of this exercise bike is the ability to work and cycle, simultaneously.
Another thing to note is that the position of the pedals means it is not quite upright and not quite recumbent, but it is very comfortable and is suitable for people between 5'2 and 6'3 (157-190 cm). It gives you 8 levels of magnetic tension resistance. The desk can support up to 44 pounds (20kg). You can adjust the desk angle between 3 settings:
And if you occasionally prefer to stand and type, you can also move it forwards and backwards and raise the height. It also has a storage drawer.
8. Marcy Magnetic Recumbent Exercise Bike ME-709
This Marcy Magnetic Recumbent Bike is a heavy-duty steel bike. Like many of the other models discussed in our exercise bike reviews, it has 8 levels of magnetic resistance to give you a challenging workout, no matter what your fitness level, all controlled by a simple, intuitive dial mechanism.
The handles are well-placed at your side and are far more comfortable to hold than the ExerWork. They are covered with a tactile foam, but, unfortunately, do not have a pulse meter. There are also two handles on the console stalk for you to grip and support yourself as you get on the bike. It is a very easy bike to use as it has a low, step-over design frame, and you can adjust the seat back and forth.
Benefits Of Exercise Bikes
There are so many benefits of exercise bikes, including:
Burning through calories
Effective for weight Loss
Building muscle tone
Effective cardio workout
Low impact for your joints
Perfect for interval training
Safer than road cycling
You can also combine riding your exercise bike with some weight and
strength
training to help you work your upper body too.
Check out our blog post to learn more about the benefits of exercise bikes! You can also get the same benefits by using your road bike inside, on bike rollers or trainers. If you are interested in this option, check out our best bike rollers and best bike trainers reviews next!
What Features To Look For In An Exercise Bike
Here are the main features to consider when choosing between the best stationary bikes for you:
Upright Or Recumbent Bike?
Both upright bikes and recumbent bikes are suitable for any fitness level, and there are benefits to both of them. Here are the key differences between them:
Upright Bikes
Upright exercise bikes are most like a traditional outdoor bike. Your body is directly above the pedals and you lean slightly forward, bending at your neck and back. The seat is usually shaped like a road or mountain bike, but often wider and more padded. An upright bike will take up less space than recumbent bikes, so if you don't have much space to set up your exercise equipment, this is a better choice.
Recumbent Bikes
Your body is more supported on a recumbent bike than on an upright bike. You sit in a reclined position with your legs out in front of you, so you will probably be more comfortable on a recumbent bike than on an upright bike. A recumbent bike is a great choice if you have poor balance or if you suffer from backache.
A slightly different variation again is a spin bike, like the Sunny Health & Fitness Pro model. Spin bikes sit you in a more hunched-over position with the pedals slightly further forward than on an upright exercise bike. Spinning is another fantastic exercise for weight loss.
There are several types of resistance for stationary bikes:
Fan-based: gives you infinite resistance. Resistance increases as you pedal harder and faster. It uses a resistance fan connected via a belt and pulley system to the pedals and is very quiet.
Magnetic: this is by far the quietest option as there is no contact between the resistant parts, and therefore, no friction. This also means that there is also no wear and tear on the parts, so your bike can last longer.
Direct-contact: This is the opposite of the magnetic resistance, using friction to create resistance. It is a braking system that can be set precisely, making it easier to set a particular level of resistance to train.
Brake-based: the most common option. This uses a flywheel, a weighted metal disk that connects indirectly to the pedals via a belt or chain. The resistance is related to the flywheel weight, so often this system is combined with a magnetic or direct contact system.
There are two weight considerations when choosing an exercise bike; your own weight and the weight of the bike. All exercise bikes have a maximum user weight capacity. Usually this is around 300 pounds (21.5 stone), but if you are heavier then you will need a stronger bike. Heavier bikes are more stable and, therefore, safer.
Exercise bikes can come with a plethora of features, including Bluetooth connectivity to access cycling apps or sync up your workout data to your smartphone, built-in workout programs, mp3 input, and a tablet holder or media shelf to entertain you while you pedal. These features can help keep your workouts enjoyable, and keep you on track to achieving your weight loss or fitness goals.
Exercise bikes come with a wide price range, from real budget to a high-end Peloton bike that costs so much it even comes with financing options! Having a home exercise bike can save you a lot of money, because even a mid-priced model can be the equivalent of just a few months at the gym, and think how much more convenient it is to use it. When considering your price range, think about how serious you are about cycle training, and how often you will use it.
Frequently Asked Questions
Yes, you can lose belly fat by riding a stationary bike. Cycling on a stationary bike is a very efficient way to burn calories; a person weighing 180 pounds doing 1 hour of moderate cycling can burn around 572 calories, meaning you can lose fat from all over your body. However, it is difficult to target fat loss in your stomach area. The only way to guarantee you lose fat from your stomach is to have liposuction. Find out more about weight loss and how to lose belly fat here.
In our opinion, the best exercise bike for home use is the Nautilus U616, an upright bike which has 25 levels of resistance, 29 unique training programs and Bluetooth connectivity for mixed reality exercising! We spent over 50 hours researching and testing the best exercise bikes on the market and the Nautilus U616 was our favorite. The best recumbent bike was the Exerpeutic 900XL.
Riding an exercise bike gives you a high-quality aerobic workout, while putting less stress on your joints than other forms of exercise. Cycling helps you to burn calories and body fat efficiently and effectively, while also strengthening your heart, lungs and muscles. Riding a stationary bike gives you the benefits of outdoor cycling, without the risks associated with cycling on the road.
I hope you enjoyed reading our exercise bike reviews. In our tests, we found that the best exercise bike overall was the Nautilus U616. Its sturdy build and wide variety of workout programs and resistance options set it apart from the rest. The best recumbent bike overall was the Exerpeutic 900XL