A professional blowout is a sure-fire way to get your hair looking and feeling marvelous. Within minutes, your stylist can create a glossy, natural style with no frizz or flyaway hairs that feels absolutely fabulous. Sadly though, professional blowouts come at a price, and there aren't many of us that can afford to have one every time we wash our hair!
But there's no need to be disheartened – you can now get the professional results from the comfort of your own home, meaning you can have blowout hair whenever you want. Hairdryer technology has come on leaps and bounds in the last few years, and with the right tools and a bit of patience while you practice you will be styling your hair into a professional blowout 'do in no time!
To get the best results from your at-home blowout, you need to ensure you are caring for your hair from start to finish.
To start with, you want to wash your hair before you start your blowout. Choose a high-quality shampoo and conditioner that is gentle on your hair and does not contain sulfates or parabens. Thankfully, more and more shampoos and conditioners are becoming available without sulfates. Once you are done, remove as much excess water from your hair as you can and gently towel dry your hair, so it is moist but not sopping.
The next step is an important one to remember every time you use a blow dryer. That is to apply some heat protectant. This may be in the style of a mousse, serum, cream or spray, so choose the type that you prefer. If you get particularly oily hair then it may be better to go for a mousse-style heat protectant, while dry hair may be more suited to serums.
Rake through your hair with your fingers to spread the heat protectant around, then use a wide-toothed comb to remove the rest of the tangles, working from the ends up to the roots so that you don't tighten any knots. You don't want any tangles when you start your hairdryer.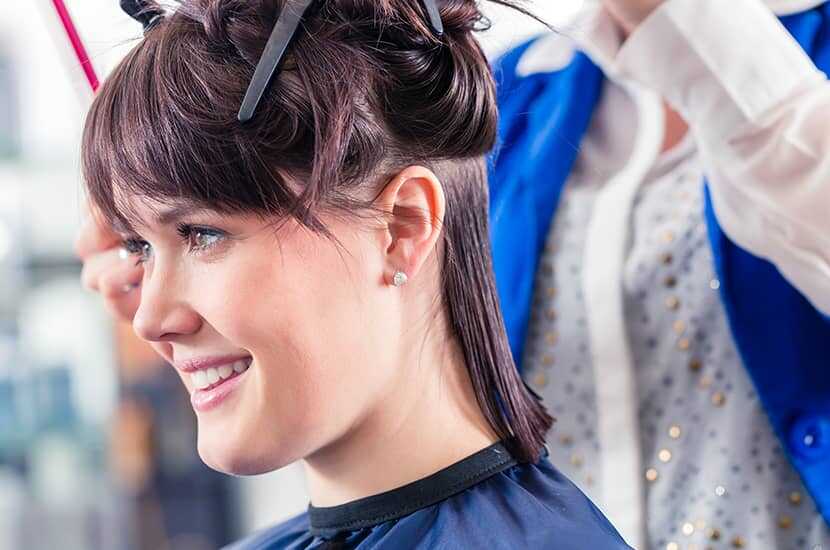 Next, divide your hair into sections. We tend to find that the easiest way is to divide your hair into right, left and back, and then divide each section horizontally into two or three sections again, and leave the top and the front until last. Get some wide hair clips to help you with this – duckbill or crocodile clips are best.
Pull the first section of your hair outwards from your head using your hairbrush. For a straighter style, go for a flat brush, but for a bit of bounce, choose a barrel brush. Brush through your hair from the root to the ends, following it closely with the hairdryer. Point the air down the strands of hair towards the ends and wiggle it so that you don't cook the hairs.
If you want to add bounce and have a barrel brush, once you have gone through that section a couple of times, then roll the hair around the brush as you are drying it and rotate the brush so that it combs through the hair. Place it under the hair and roll outwards to get waves/curls that curve around your face, or place it over your hair and roll inwards to get is to curl away from your face.
You can do this last bit using the cool air from your dryer. This is more gentle on your hair and will leave it looking more glossy, without appearing oily. If you like, you can then pin those dry strands back again so that it is easier to reach the next section of hair.
Work methodically through the layers and sections of your hair. You don't have to get them 100% dry as they will still get the benefit of the air while you are working on the other sections too. Once you have worked the rest of the sections of your hair, you can finish up with the top, front section. This may be the trickiest to style, as it tends to be where cowlicks form.
You can eliminate these pesky cowlicks by drying your hair in three directions. To get rid of your cowlick, use a paddle or flat brush. First hang your head forwards and brush through your hair, chasing the brush with the hairdryer, forwards, towards your face. Then flip your hair back and brush and dry it back towards the back of your head, then to finish up, brush and dry it straight down towards the floor. This should smooth your the cowlick and make it much easier to style.
If you are lucky enough to not have any cowlicks to worry about and instead want to give you have a bit of volume, brush the top section of your hair directly upwards towards the sky, chasing the brush with the hairdryer. Position the brush behind the hair for the best volume.
Once you are done, remove the clips and shake out your hair, run your fingers through it to loosen any curls and get rid of any loose tangles that may have formed while it was clipped back.
Finish up your blowout with a quick blast of cold air throughout and a spritz of hairspray to hold it in place. You don't need much as you probably aren't going for the crispy, no movement look, but the small spray of hair hold will tame any flyaway hairs that may occur a few hours after you have finished, and keep your blowout looking fresh all day.
10 Tips For Achieving the Perfect Blowout
Have the right tools at your hands. Hairdryers are now much more advanced than they used to be, with ionic and infrared technology to prevent frizz and damage. They are also extremely lightweight, which is what you need when working on a style like this. To find out more about the which hairdryers we like and which are the quietest, take a look at the reviews we have written.
Use your attachments. A concentrator nozzle is the most important and is focusses the hot air onto the section of hair you are drying. A diffuser is a great option for wavy hair.
Always avoid rubbing your hair dry with a towel as this can cause damage and frizz. Instead, squeeze out excess water with your hands and then wrap a towel around the strands and squeeze again. Nearer the roots, press the towel into the hair to absorb the water.
Don't start up your blow dryer until you can get rid of most of the moisture. Squeeze, pat and press as much of the excess water out with a towel before using your hairdryer. This reduces the chance of you overdoing the hair dryer and frying the strands.
Don't dry in a humid environment – move through to your bedroom or at least out of the bathroom as the humidity leftover from your bath or shower exacerbates frizz.
If you are particularly prone to frizz, maybe if you have thicker curlier hair, then try to keep the hairdryer moving faster. This prevents you over-drying segments and avoids heat damage.
Dry your roots first as this is where your hair is densest and will take the longest. Flip your hair upside down when drying it to give it more volume.
Always point your hairdryer down the hair, never up. This keeps the cuticle smooth and gives you the healthy, glossy style.
Use the coolest air setting you can to protect your hair. In general, thinner, finer hair is best suited to lower temperatures while thicker, coarser hair is more able to tolerate higher temperatures, but is more likely to frizz. Don't worry if you don't have the time for a cooler setting – now and then it is fine to use the hottest setting – just remember to keep the air moving so you don't over dry any areas.
Leave your hair a little damp – don't dry it completely. You don't want it to be too moist. Leave just enough moisture in that it will happily airdry within 5 to 10 minutes.