People usually say that "the longer your hair, the more you can do with it". It doesn't need to be like that all the time. Learning how to curl short hair with a flat iron can be difficult at first. However, once you've mastered it, it will be as easy as curling short hair with a curling iron or curling wand. Keeping your hair short might be a lot more fun and trendy than you think if you know how to style it. In this article, we will provide top tips and show you effective methods for curling very short hair.
How To Curl Short Hair With A Flat Iron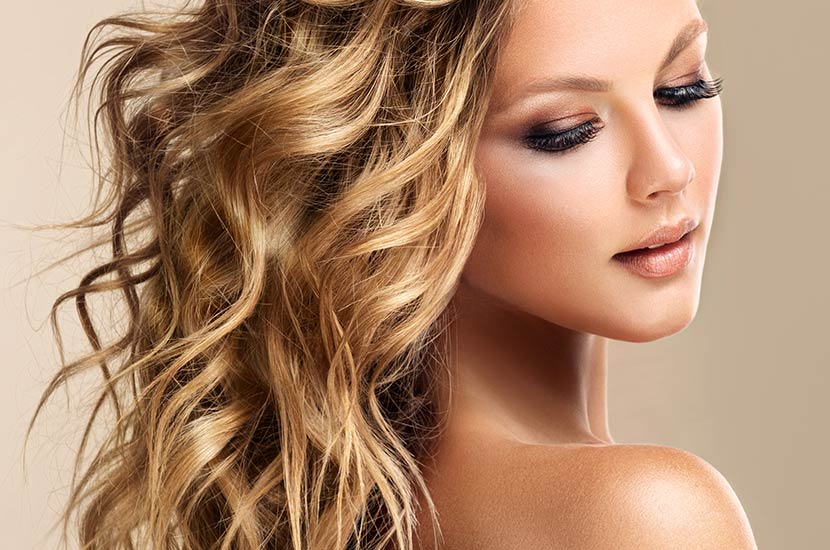 Here are step-by-step instructions for using a flat iron to curl short hair.
First, you'll need a flat iron for short hair styles. We recommend using thinner plates. You can curl even the shortest hair with a hot tool if you can rotate it down the length of your hair.
2. Start With Freshly Washed Hair
Before you start, keep in mind that you need clean hair for better results. Use shampoo and conditioner that rinse well so they don't weigh down your hair.
3. Select Your Hair Products
If your hair does not hold curls well, use a styling spray. The curls will last longer if you spray styling spray on the hair before curling. Allow the spray to dry for a few seconds before curling if you don't want your hair to stick to the plates.
The best way to prepare your hair is to use a heat protectant and a small amount of dry shampoo. Before you begin, use dry shampoo to remove excess oil and give your hair volume. You should also brush it before curling hair with a straightener.
5. Decide On Which Type Of Curl You Want
Because you can curl your hair in many different ways, you should decide which type of curl is best for you. Choose between having blunt ends and more natural curls or a more polished look with fully curled ends and soft bounce.
Make a section in your hair from top to bottom. Begin with two portions. Simply separate your hair and keep it in place with a hairband. Curl the bottom layer first, then continue on to the top.
To get nice curls, use a flat iron to totally straighten it before curling or use some of the best hair straightening products.
7. Begin Curling The Front Sections
Clamp the iron around the first segment of hair near the roots. Maintain a light grip, just enough to keep the hair in place so the flat iron can glide easily along. Be gentle, as gripping too tightly makes it difficult to operate the instrument and might cause unnecessary damage to your hair.
Turn the flat iron away from your face by half a turn. To make your curl, twist both the flat iron and the hair around it. A half turn is usually sufficient for loose, moderate waves. Try a complete turn for more curls.
9. Curl The Top Layer Of Your Hair
Repeat the procedure on the top layer of your hair, but this time, place the flat iron a little farther away from the scalp and a little lower on the head. This way, your curls will lie better.
10. Continue Until All Sections Are Curled
Curl the rest of your hair in the same manner. You don't have to be absolutely consistent with the pattern, so experiment and make the types of curls you want.
To style your curls, run your fingers through them. Apply a small amount of your favorite hair product to your hands and gently run your fingers through your hair.
If you want extra volume and lift, turn your head upside down and shake it.
To add volume to your hair, use texture spray. It is fantastic for fine hair, especially if you've just washed it. Texture spray thickens your hair and helps keep the curl better without making it sticky or stiff.
Follow the steps below to get the beach wave style:
Use A Good Protective Spray
To avoid damage, use a good protective spray. A decent quality heat protectant spray is a worthwhile purchase if you use heat tools on a daily basis. Once you've applied the spray and dried your hair, you're ready to begin.
If you haven't washed your hair, apply a styling product to add grip and texture. Texturizing spray is a fantastic hair product to use if you have fine or very straight hair. As a result, your hair will become fuller and thicker.
It is easier to clip the back section away from your face, leaving the front section loose and the rest out of the way.
You only need bobby pins and a comb for this type of hairstyle. Begin with moist hair and split it into little sections. Then, wrap a section around your finger and secure it with two bobby pins to your scalp. You can use two pins to keep your hair in place. Repeat this process for each section of your hair. Leave them overnight, then carefully remove the pins and lightly comb through the hair with your fingers or a wide tooth comb.
Remember that the tighter you wrap the hair, the tighter curls you'll get. If you want to get larger, looser curls, try the same approach but with a larger section of hair.
A pencil or makeup brush works well for corkscrew curls. Take a few hair strands and tightly wrap them around your pencil or brush, getting as close to your roots as you can. Then, clamp down the wrapped strands with the straightener. The curls will last longer if you wait a few seconds before taking it out to let the hair cool. Finish by separating the curls with your fingers and adding a serum to the ends to prevent fizzing.
Start by plaiting a small section of hair at a time, making sure to finish the plait. A wider braid will result in wider curls and vice versa. Try this technique with a lot of tiny braids if you want your hair to look bigger and voluminous. Before running your straightener through the braids, make sure it is hot enough. You can achieve the desired curls by letting them completely cool before spraying them with hairspray and taking down the braids.
How To Curl Pixie Hair With A Flat Iron
Whatever style you choose for your very short hair, make sure your hair is clean. Shampoo your hair, condition it and towel dry it. Before styling your hair, you can either blow dry or air dry it. You can find the best hair dryer for every hair type here. After your hair has dried, spray it with heat protection. Working in parts, use your heated iron. Start at the top and clamp the flat iron onto it, twirling it down as you go. You should make a circular rotating motion from top to bottom. Repeat the process all over your hair until you achieve the desired look.
For the best results, use the best pencil flat iron.
Flat Iron Tips And Tricks For Curling Short Hair
If you want to curl your short hair with a flat iron, you should follow these tips to make it look better.
The way you twist, flip, rotate or twirl the iron determines the curl direction.
Curling short hair requires practice. You can only improve at something if you first fail at it.
To add volume, start at the roots and spray your hair with a volumizing hair spray.
There is no need to tightly clamp the flat iron plates together.
After curling is complete, you can soften the curls by raking them in any way you like.
Use a smaller flat iron with smaller plates. You can easily find one of the best mini flat irons on the market.
You must use the right temperature in order to achieve the desired results in a single pass.
If you want to keep the ends of your hair healthy, make sure your hair care routine includes at least a little extra hydration.
Frequently Asked Questions
As you can see, having short hair does not limit your styling options. Using our guide, you'll learn how to curl short hair with a flat iron with ease. Whatever method you use to curl hair, it will take time and effort to become skilled at curling your hair. But when you do, you'll do it all the time.