If you are a big fan of the 1980s like me, you must have been excited when you figured out that many hairstyles are making a comeback. When we think about all those cool hairstyles, I am sure we all have in mind zig zag, crinkled hair. If you thought that you could only get that hairstyle after doing tight braids, let me tell you a secret – there are tools called hair crimpers that can be used to get a crimped hairstyle. It's time to learn how to use a hair crimper.
How To Use A Hair Crimper
If you want to learn how to get the famous 1980s zig zag look and add textured waves to your hair, follow my step-by-step tutorial below.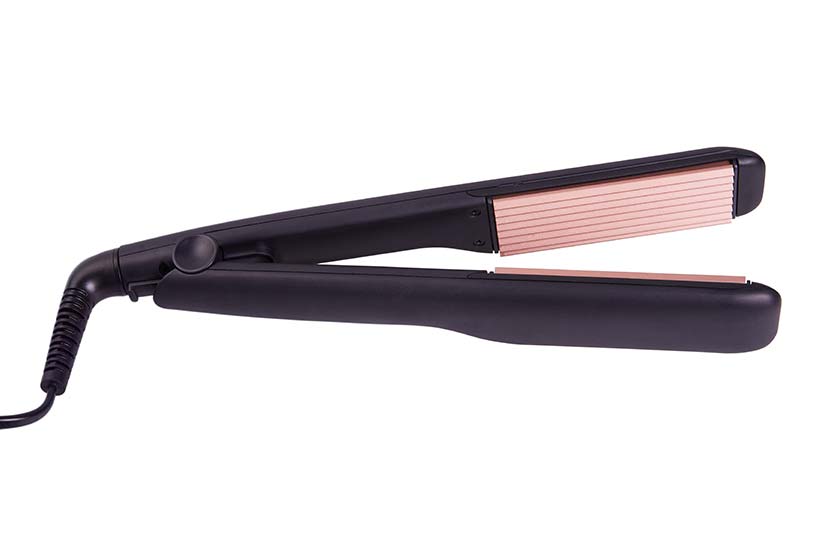 Just like choosing any hair tool, you must buy a hair crimper that suits your hair type. If you have thin hair, hair crimpers for stubborn, thick hair won't give desired results. Therefore, the most important step of your hair crimping journey is choosing the right crimper.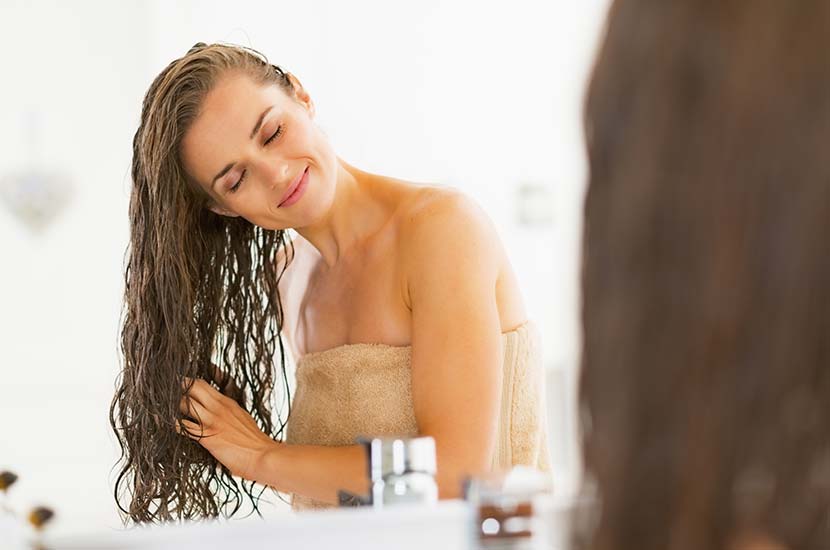 Although using a curling wand or the best hot rollers requires second-day hair for better results, crimping is different. You need freshly washed locks to get the most flattering look. Use a volumizing shampoo and conditioner to smoothen those locks.
For more information about other styling tools, take a look at our review of the best curling wands here and click here to learn about the best hot combs.
It is very important to protect your hair from the extreme heat. Apply a generous amount of heat protectant spray for the best protection. This is an important step. This hair product is not only used to protect your hair but it is also a great styling product.
Never forget to dry your hair with a hair dryer because crimping on wet hair is a big NO! If you crimp hair while it's wet, a crimper will cause heat damage to the hair follicles and it will lead to breakage.
Here you will find more information about the best hair dryers for your hair. Choose the best one for yourself. Want to learn how to dry your hair fast? Read more by clicking the link.
Comb Hair To Remove Tangles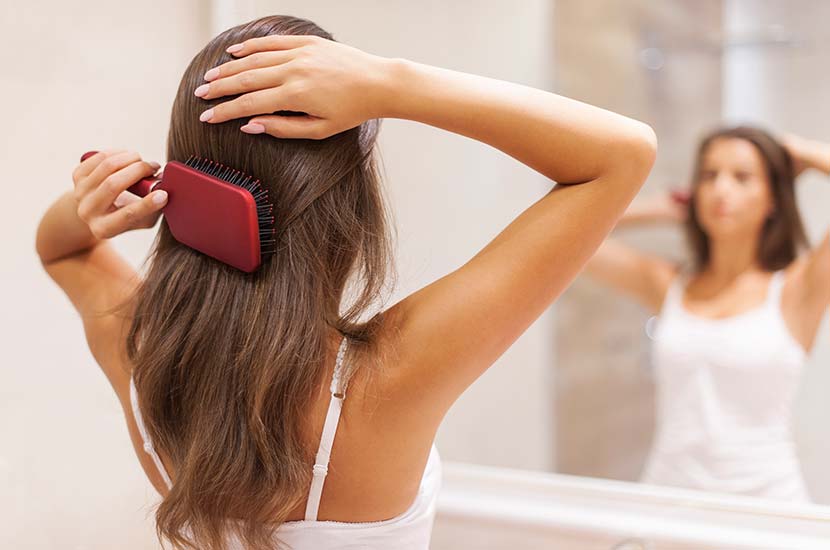 Using a smoothing brush, detangle any knots in your hair and try to straighten your curls to get a perfectly smooth surface before starting crimping. This step will ensure that the final result is smooth and perfect and that the crimping iron doesn't get caught in knots. Plus, if you brush your hair after applying heat protection, it will ensure that the product is spread all over the hair evenly.
Now the time has come to crimp hair. Plug in your crimping iron and use the lowest temperature setting to ensure it doesn't burn your locks. You usually need to use high heat settings for thicker hair, whereas you might need to use the lowest setting if you have thinner locks.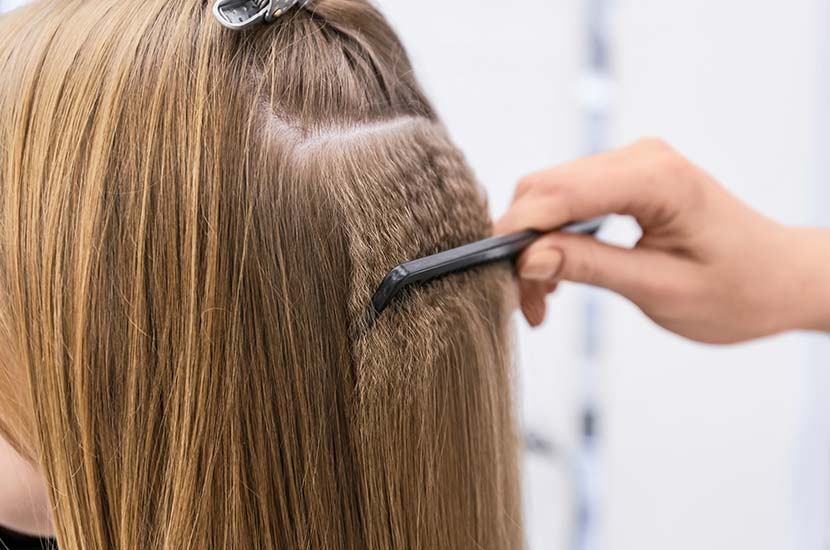 Just like when using a curling iron or straightening your curls with a flat iron, the best way to achieve crimped style is to part your hair into small sections – 1 inch (2.5 cm) or 2 inches (5 cm). Use clips to secure the sections and to move hair you are not working with out of the way.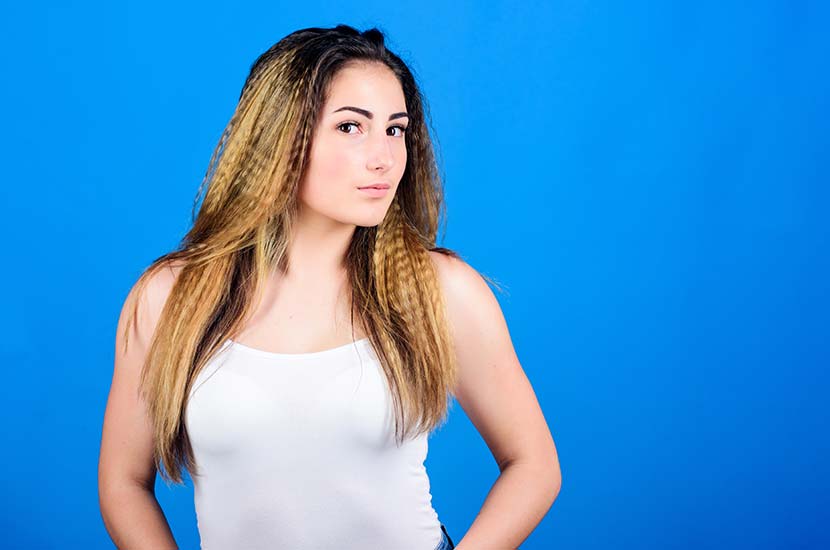 Take a section at the bottom with your non-dominant hand and gently clamp down the heated crimping iron starting at the roots. Get as close to the scalp as possible without burning it. Hold down for 3 to 5 seconds and then release the pressure. Continue crimping down the length of your hair. Repeat this procedure with the rest of your hair to ensure you have the desired look.
Spray Your Hair With Hair Spray
Spritz a setting spray for a long-lasting crimped style. I recommend using hairspray with a flexible hold that makes the hair look natural.
Here are some useful tips for getting the perfect crimped hair:
Always dry your hair to prevent split ends. Using a heated crimper on wet hair can cause damage to your hair follicles.
If you have curly hair, try straightening it first to crimp your hair effectively.
The hot tool you decide to use will determine the final look of your crimped hair. The larger the barrel – the wavier the crimp.
If you want to get beach waves, part your hair into smaller sections.
To add volume, start crimping as close to your scalp as possible. For less volume, start further away.
Frequently Asked Questions
There are different ways to achieve crimped hair – you can braid your hair or learn how to use a hair crimper. Hopefully, I have helped you learn how to crimp your hair to get desired style and fantastic zig zag look. Make sure to work on clean hair and dry it before starting the crimping process – you don't want to end up with damaged hair.